The April 2013 issue of V-Jump hit Japanese shelves yesterday, and we are still making our way through the magazine to bring all the best Dragon Ball news and information tidbits we can. In addition to teasing the concept of a new "Super Saiyan God" form for the upcoming theatrical film, Dragon Ball Z: Battle of Gods, the issue contains a three-way question-and-answer session with voice actors you are likely familiar with by this point: Masako Nozawa (Son Goku, et al.), Shōko Nakagawa ("Oracle Fish"), and Kaori Matsumoto (police officer).
A full translation of the interview — a surprisingly lengthy piece! — can be found over in our "Translations" section.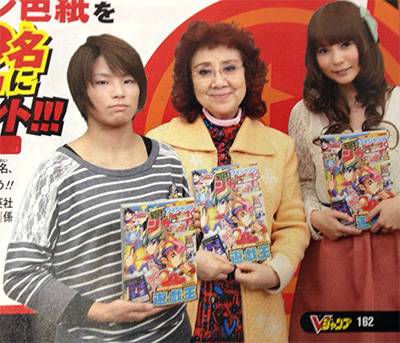 A new pamphlet also hit Japanese theaters as a "take one" freebie and is overall very similar to the previous version, but with one very fun extra: a new quote from original manga author Akira Toriyama!
ドラゴンボールのアニメ映画はなんと17年ぶりだそうです!これまでアニメーションは基本的にすべておまかせでしたからストーリー作りから参加するのは僕には初めての試みです。今回の「破壊神ビルス」と「超サイヤ人ゴッド」というキーワードは脚本家の方の案ですが、これ以上ない、というところまで強くなってしまった主人公達のピンチを表現するにはとてもいいアイデアでした。まずビルスのキャラ作りや設定を決め、連載に続きがあったらと想定してオリジナルストーリーを考えてみました。そして今回珍しく自主的にデザインも描いた破壊神ビルスは、これまでの敵とは更に次元を越えた圧倒的に強くて恐ろしい相手です。しかし暗い内容にしないのが僕の特徴。少なくとも僕はとっても楽しい作品に仕上がったなと満足しています。

ところで後半のバトルシーンは特に圧巻です!予想を越えた表現には感激しました。 さすが日本のアニメーションは優秀なんですね!スタッフの皆さん、本当にごくろうさまでした!! それでは久々のドラゴンボールをお楽しみください!

---

Apparently, it's been 17 years since the last animated Dragon Ball movie! For all the animation up to now, I've basically just left everything up [to the staff], so this is my first try at being involved starting from the story's creation. The key words this time, "God of Destruction Birusu" and "Super Saiyan God", were suggestions from the scriptwriter, but they were good ideas for presenting a crisis for the main characters, who had grown so strong that they'd reached a point where there was nothing higher. After first deciding on Birusu's character design and background, I tried thinking up an original story, imagining it as though [the manga's] serialization had continued. What's more, the God of Destruction Birusu, who I drew the design for myself (something I don't usually do), is a terrifying opponent so overwhelmingly strong that he surpasses the dimension of the previous enemies. But it's my trademark to not let things get too dark. At the very least, I'm satisfied that it's been finished up as a very entertaining piece of work.

By the way, the battle scenes in the second half are particularly overwhelming! I was moved because the presentation exceeded my expectations. Just as you'd expect, Japan's animation is superb! Everyone on the staff, you really did a great job!! Well, please enjoy the first Dragon Ball in a long time!
An archive of this comment has been added to our "Translations" section, as well.