At the beginning of the month the first "Dragon Ball Full Color" volumes hit bookstores across Japan, along with the first Chōzenshū volume, and we are finally getting around to really digging through them in more depth. While each "Full Color" volume contains a brief "Enter the DRAGON BALL" recap giving new readers a look back at the beginning of the series, they each also contain a short Q&A section covering seven different questions about the Saiyan arc. The first six questions of each section are answered by Shueisha, but original author Akira Toriyama was brought in to answer the seventh and final question of each volume.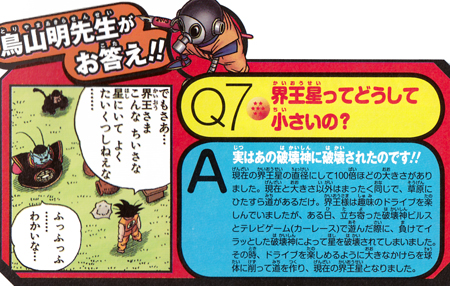 Shueisha's questions are for the most part very simple, covering some of the basic aspects of the story arc, but Toriyama seems to expand a bit more with his answers. In fact, he even delves a bit into some interesting Dragon Ball Z: Battle of Gods background information with the answer to his final question:
Q7: Why is Kaiō's planet so small?

A: The fact is, it was destroyed by the God of Destruction!!
It used to be so big that its diameter was about 100 times that of Kaiō's current planet. Apart from the size it was completely the same as it is now, with nothing but grassy fields and roads. Kaiō-sama enjoyed his hobby, driving, but then one day Birusu, the God of Destruction, stopped by and they played a video game together (it was a car racing one). Birusu lost, and so the planet was destroyed by the peeved God of Destruction. Kaiō then took a large leftover fragment, whittled it down to a sphere, and built a road on it so that he could have fun driving there. This became Kaiō's current planet.
You can read the entirely of these Q&As in our "Translations" section, and find more information about this release in the appropriate section of our "Manga Guide".