No-one thought twice about Gohan when the very first details on the upcoming film, Dragon Ball Z: Battle of Gods, were first revealed. There he was with the rest of the group in what seemed to be a time frame around the end of the Majin Boo story arc.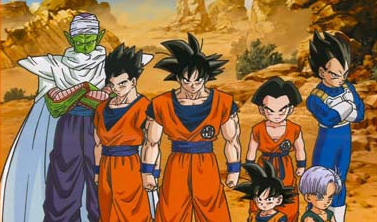 It was only when the preliminary version of the movie's poster first leaked that questions began to spring up, where Gohan was pictured along the bottom in his Super Saiyan form. By this point, Toei Animation and various parties associated with the movie had confirmed the story would take place between the defeat of Boo (Chapter 517) and the 28th Tenka'ichi Budōkai (Chapter 518).
At this point in the story, Gohan had received his power-up from the Elder Kaiōshin and, for what few chapters remain in the rest of the series, Gohan does not again transform into a Super Saiyan:
Son Goku: "It re-really is incredible… It's super-duper…! Absolutely unbelievable… Your appearance has hardly changed… And you ain't even a Super Saiyan… Yet you've been taken to su-such an extreme…"
Elder Kaiōshin: "Hmph, transforming isn't good. That Super whatever-it's-called is the wrong way of doing things…"
Long story short, nothing is revealed — at all — about Gohan's ability or inability to actually transform if he wanted, if this was a permanent or temporary power-up, etc. It is just left at that… until Dragon Ball GT, when Gohan unceremoniously transforms into a Super Saiyan during Baby's arrival and infestation of our heroes on Earth. Nothing is ever mentioned about the Elder Kaiōshin's power-up and what may have happened to or with it.
Back on Episode #0319 of our podcast, the super-trio of myself (VegettoEX), Jake (Herms), and Sean (Kaboom) dug through every bit of published material about the situation. What did the manga say? What did the anime say? What did the guide books say? While there was little in the way of solid conclusions we could draw, the conversation more comprehensively covers the situation than this post does — we definitely encourage you to check it out.
So that brings it back to Battle of Gods: if this story was set to take place during the original timeline shown in the manga, what is up with Gohan transforming?
Things got a little more confusing with the second full length trailer that was recently released, in which Gohan is clearly shown to be both standing around and fighting in his "Ultimate" form, or at the very least, simply not as a Super Saiyan. What about some of the artwork, which appeared to be direct screenshots from the movie, that clearly showed Gohan transformed…?
Scriptwriter Yūsuke Watanabe was recently asked by a fan on Twitter about Gohan, to which he replied (presented below broken apart from the flow of conversation):
胡桃沢 (@Peter_smit4)

@yuusukewatanabe しかも悟飯は超サイヤ人になる必要性がないんですが。 いい加減なGTスタッフもそうでしたが、完全に忘れてましたよね。老界王神の潜在能力解放を。

---

Kurumizawa (@Peter_smit4)

@yuusukewatanabe And on top of that, there's no need for Gohan to be a Super Saiyan. The GT staff were careless like that too, but you completely forgot about it, didn't you? — Elder Kaiōshin's unlocking his latent potential.
脚本家のほうの渡辺雄介 (@yuusukewatanabe)

@Peter_smit4 あ、あとネタバレになるので、あれなんですが本編では悟飯、スーパーサイヤ人になってませんよ! ぜひ映画本編でご確認ください! よろしくお願いします!

---

Yūsuke Watanabe the Scriptwriter (@yuusukewatanabe)

@Peter_smit4 Oh, and also, this is a spoiler, so it's kind of "that" [i.e., not appropriate for me to be telling you], but in the movie proper, Gohan isn't a Super Saiyan! By all means, please do check it out in the actual movie!
胡桃沢 (@Peter_smit4)

@yuusukewatanabe あれ?予告編でなってると思ったんですが、あれは宣伝目的的な映像だったのでしょうか。 基本洋画は特典などがついてるからDVDでみるのが好きなんですが、DBに限ってはDBファンの話のなかに入りたいし、公開日に観に行きます。お返事ありがとうございます。

---

Kurumizawa (@Peter_smit4)

@yuusukewatanabe Huh? I thought he was one in the trailer, but maybe the video was just for promotional purposes? As a rule, I like to watch western movies on DVD because they come with extras and such, but for DB alone, I want to be involved in DB fan-discussions, so I'll go see it the day it opens. Thanks for your reply.
脚本家のほうの渡辺雄介 (@yuusukewatanabe)

@Peter_smit4 すいません!予告編とかポスターとか、そっち系は、脚本家としては担当外でして、何とも言えません…。恐縮ですが何卒よろしくお願いします。

---

Yūsuke Watanabe the Scriptwriter (@yuusukewatanabe)

@Peter_smit4 Sorry! As the scriptwriter, stuff like trailers and posters falls outside my responsibilities, so I can't tell you anything [about that]. I'm terribly sorry, but please [try to understand] all the same.
So there you have it: Gohan being shown as a Super Saiyan in early promotional materials was simply for visual purposes, and Yūsuke Watanabe at least seems to agree with this fan that Gohan's transformation in Dragon Ball GT might have been a careless oversight.
Perhaps thankfully, while this is great clarity to have, it actually does not render our discussion in the podcast episode irrelevant! We highly encourage you to check it out and come up with some of your own conclusions as we break apart all of the fun little tidbits, particularly from a few guide books that rarely get the spotlight.
Big thanks to our buddy kei17 for the heads-up!