A new series of Q&As with original manga author Akira Toriyama — "Super Long Interview!! Please Tell Us, Akira Toriyama-sensei!!" — kicks off with today's issue of Weekly Shōnen Jump (WJ 2013 #14) in Japan, all leading up to the theatrical debut of Dragon Ball Z: Battle of Gods in just a few weeks. The first question deals with the origin of the plot points for the movie, and how Toriyama's involvement shaped things: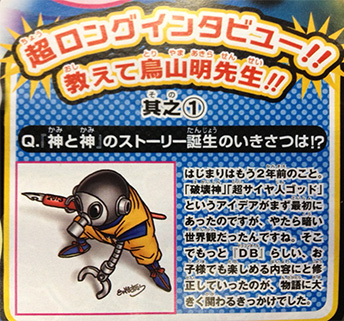 What's the story behind the birth of the plot line for "Battle of Gods"?!

It began two years ago. The ideas "God of Destruction" and "Super Saiyan God" were there from the start, but the worldview was pretty dark. So correcting this into a more "DB"-esque content kids could enjoy too was the catalyst for me becoming heavily involved in the story.
We will archive each of Toriyama's answers on a new page of our "Translations" section with each new release.
This week's issue also features a two-page spread focusing on Battle of Gods, though no real new information is included:
The God of the Saiya descends!?

The Power to Resist the God of Destruction — —

Super Saiyan God!!

A legend among legends of the warrior race, the Saiya — — that is 'Super Saiyan God'!! Witness the true nature of this ultimate warrior, who excites even Birusu, at the theater!!
This is a big week for Dragon Ball material in books, so stay tuned!