The second in a series of four new Dragon Ball books, "Chōzenshū 2: Animation Guide Part 1″, was released in Japan today (05 March 2013), packing a huge amount of material from three prior Daizenshuu into one book along with a few new tidbits.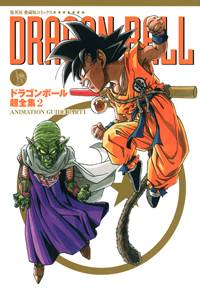 As with the first Chōzenshū, a good bunch of new material was also included. There are spotlights on the new animation from the last five years, such as Heya! Son Goku & Friends Return!!, Plan to Eradicate the Super Saiyans, and Episode of Bardock. Unlike the first volume, however, there is no new interview with Akira Toriyama included this time around. The Daizenshuu 3 and 5 interviews are edited together and reprinted, though the last three questions from the former have been omitted in the process. The "Library of Adventure" and "All Story Digest" sections are also missing.
An overview page for this volume has been added to our "Databook Guide" breaking down all of the sections. Links to our translations of the republished interviews are also included.