Dragon Ball Heroes: Ultimate Mission for the Nintendo 3DS — a portable version of the two-year-old, still-going-strong, card-based arcade game — launched in Japan this past week on 28 February 2013. Media Create released sales figures for the week of 25 February 2013 to 03 March 2013, and the numbers do not lie: it sold… pretty well! The game moved 88,386 copies its first week, securing a spot as the fourth-best selling game in that period.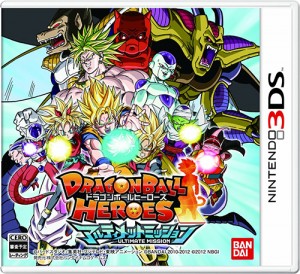 The most-recent console game for the franchise, Ultimate Blast (released internationally as Ultimate Tenkaichi), moved 44,593 copies on the PlayStation 3 its first week back in December 2011. The most-recent portable game for the franchise, Dragon Ball Kai: Ultimate Butōden for the Nintendo DS (which never received an international release), moved 31,108 copies its first week back in February 2011.
The last portable game to hit this level was the first Dragon Ball DS (released internationally as Dragon Ball Origins) back in 2008 with 72,330 copies its first week.