In addition to housing a special "SD" version of Dragon Ball Z: Battle of Gods by Naho Ooishi, the April 2013 issue of Saikyō Jump contains a short interview with two Japanese children and the expected trio of voice actresses: Masako Nozawa, Shoko Nakagawa, and Kaori Matsumoto.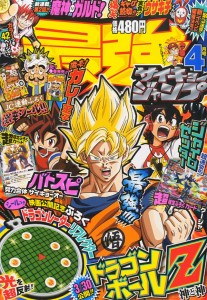 The interview — conducted by two children with lots of bold colors — is much shorter than the "ZZZ (Triple-Z) Talk" interview from the latest issue of V-Jump, but touches upon some of the same points, such as Nozawa flipping back and forth between characters, Nakagawa's excitement, and Matsumoto's drive.
Our translation of the interview has been added to the "Translations" section here at Kanzenshuu.
The April 2013 issue of Saikyō Jump is available for purchase online from sites such as CDJapan and Amazon Japan.