The first preview screening for the new film, Dragon Ball Z: Battle of Gods, took place at Shinjuku Wald 9 earlier today in Japan. Voice actress Masako Nozawa and others were on hand to introduce the film. Nozawa was asked what she would wish for if she could have one wish come true, answering, "As long as the Earth exists, I want to keep doing Dragon Ball with Goku." Otaku icon Shōko Nakagawa — who plays the "Oracle Fish" in the film — replies, "The words you just spoke will go down in history." The introduction concludes with the entire audience performing a Kamehameha with Nozawa!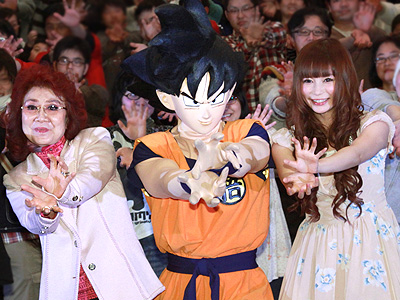 While Kanzenshuu staff were unable to secure tickets for either this screening or one of the screenings simulcast to locations across Japan (the movie drops nationwide in Japan 30 March 2013 and we will have our own first-hand accounts that same day), friend-of-the-site kei17 luckily made his way in! Until the 30th, for those of you absolutely dying for any more hints about the story, here you go! Be warned, as should likely go without saying at this point, that we are in full-on "spoiler" territory here.
The new "Super Saiyan God" form is a legendary form among the Saiyans that needs the power of six pure-hearted Saiyans. "Super Saiyan God" had appeared on Planet Vegeta once before to stop evil Saiyans, but he failed due to the form's time limit.
Goku reaches this "Super Saiyan God" form — looking similar to the image seen on a Toei Animation office poster — surrounded by a red aura. Goku returns to his regular Super Saiyan form, but has now felt the form's godlike power and is able to tap into it.
While there are only five Saiyans seen in the movie (Goku, Vegeta, Gohan, Trunks, Goten), there is actually a sixth: the one currently growing inside Videl (Pan)! Dende is the one to notice the pregnancy as he heals Videl from inadvertently being shot by Mai, all thanks to a drunken Gohan.
Pilaf and his gang make a wish to Shenlong to restore their youth, but are then made too young.
"Uisu" does not fight at all, but "Birusu" reveals that Uisu is his martial arts master and is even stronger than he is.
Birusu reveals that there are actually "12 universes", and what we see in the Dragon World is but one of them — this ties in with the seemingly-out-of-the-blue notation in Chōzenshū 1: Story & World Guide that states Planet Earth, where Goku & co. live, is Planet 4032-877, and is part of the "Seventh Universe".
Check back soon for a longer summary of the film!