Birusu, God of Destruction (from this month's new film, Dragon Ball Z: Battle of Gods), was announced last month as a special addition for the multiplayer, online, Japanese-only arcade fighting game, Zenkai Battle Royale. For now, Birusu will only be available to players by participating in the "Competition for Dragon Balls" promotion and fulfilling the requirements to unlock him, which all kicks off with the movie's release 30 March 2013.
The official website for the game has now been updated with a full character profile page for Birusu, and the upcoming May 2013 issue of V-Jump (releasing 21 March 2013) provides a few additional tidbits about how to combat against the God's overwhelming strength.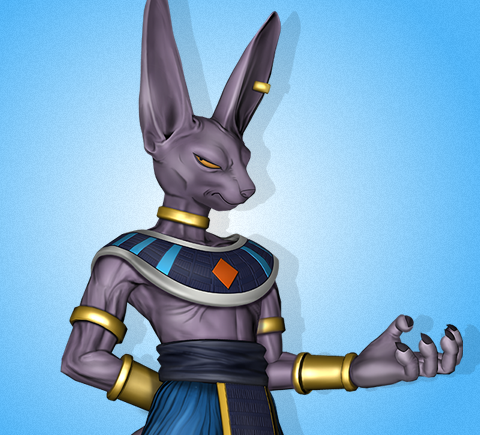 While Birusu's speed is great, it is possible to fight back by getting him into a certain area that slows his movements, allowing the player to catch up with him for a set amount of time. In addition, while his special attack covers a wide swath of territory that makes it nigh-impossible to dodge, through "additional input" (we assume this means extra button-presses), the player can cause the energy ball to explode in midair, before it hits.
Additionally, it appears "Super Saiyan God" will also be making an appearance in the game:
In order to win against Birusu, one more "God" enters the Zenkai fray!! All details will be revealed in the super-large June issue of V-Jump!!

This is—— the 'God' of the Saiya!!
As we have come to expect from this game, the updates are fast, furious, and not slowing down even this long after its original release.