Yesterday's issue (2013 #16) of Weekly Shōnen Jump in Japan contained the third of the on-going Q&A session with original manga author Akira Toriyama, and while there are not many more truly blockbuster items or reveals in the issue, there are a couple fun tidbits worth mentioning.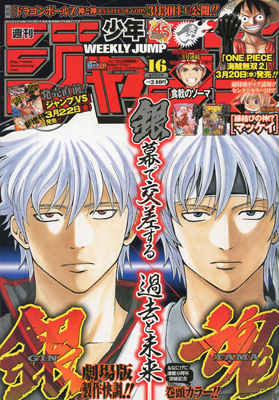 A limited-edition Dragon Ball watch is advertised on the inside back cover. Only 9,999 copies will be produced, though no price is listed.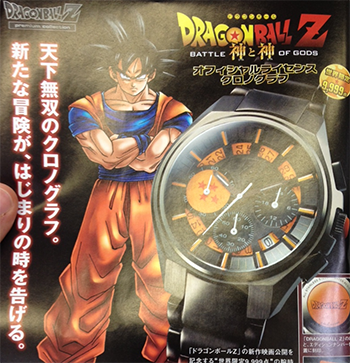 While we have known quite a bit about the upcoming exhibit "The World of DRAGONBALL", only prices for the first stop along the tour — Tokyo — had been made available. This week's issue reveals that the Osaka leg of the exhibit will run ¥500 for adults, ¥300 for university and high school students, and free for junior high schoolers and below. Tokyo gets an update, though, with a note that pre-sale tickets will be ¥200 off the regular price for both adults and university / high school students.
The magazine also notes a new railway promotion, itself explained in more detail in an official press release. Between 20 March 2013 (Wednesday) and 23 April 2013 (Tuesday), Hanshin Railway, Hankyu-Hanshin Holdings, and Toei Animation will be holding an "Umeda – Sannomiya Dragon Ball Stamp Rally". This is in commemoration of the completion of major renovations at Hanshin Sannomiya Station, as well as the release of Battle of Gods coming up on 30 March 2013. After stamping a special flyer at both Sannomiya and Umeda Stations (in Kobe and Osaka, respectively), the first 2,000 people to come to either OS Cinemas Mint Kobe or Umeda Burg 7 (in Osaka) by the 16th will receive a free admission ticket to the "Akira Toriyama: The World of DRAGON BALL" exhibition that will be coming to Osaka next month.
By showing the same stamped flyer at the event itself between the 17th and 23rd of April, you will get original stickers (again, limited to the first 2,000 people who do so). You can find the flyers at each station (except for Higashi-Naruo and Suzaki on the Mukogawa Line), but the stamps needed are only at Sannomiya and Umeda. Additionally, during the promotion period, there will be announcements by Son Goku (Masako Nozawa) over the speakers at each station. The one-way fare between Hanshin Umeda and Hanshin Sannomiya is ¥310 yen, so the total price comes in at ¥610 all together, which is more than the price of admission to the exhibition.
The upcoming official guide to Dragon Ball Z: Battle of Gods — releasing 21 March 2013 for ¥580 — is given a quick mention, noting that it "will make the movie 100 times more fun". The guide will contain character introductions, rough sketches drawn by Akira Toriyama for the film, "basic knowledge" of Dragon Ball, art illustration introduction, special interviews with both Akira Toriyama and Masako Nozawa, and a poster with a new illustration.
Finally, the magazine provides a reminder that the "Miracle of God" booster card series for the Dragon Ball Kai Miracle Battle Carddass series goes on sale 12 April 2013.