The special Dragon Ball Z: Battle of Gods preview clip recently added to the Japanese iTunes Store gives a nice glimpse into the character of "Birusu", God of Destruction, as well as his castle. As many people have pointed out, it seems that "Birusu" might have a little guest from the Dragon Quest video game series floating around: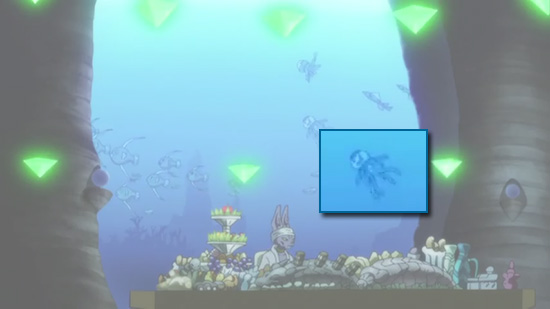 That appears to be a Cureslime, first introduced in Dragon Quest III on the Nintendo Famicom in 1988, making his merry way through the water. Artwork and character designs for the Dragon Quest games — originally released under the "Dragon Warrior" name-change here in North America until its big re-launch with Dragon Quest VIII on the PlayStation 2 — has been done by (surprise, surprise) Akira Toriyama of Dragon Ball fame.
This is not the first Dragon Quest cameo in the Dragon Ball series, though…!
Akira Toriyama makes references to the game series in his original weekly chapter notes as far back as May 1986. Along with Chapter 79, the author noted:
Dragon Quest is dangerous! It got to the point where I couldn't get any work done, so my wife finally took it away.
Along with Chapter 108 in February 1987, the author noted:
Dragon Quest II on the Famicom (NES) is too fun! Now I can't get any work done!
Later that year in September, along with Chapter 141, he stated:
I've finally finished drawing all the monsters for Dragon Quest III. The game looks really fun!
Perhaps not coincidentally, 1987 marked special cameo appearances by Dragon Quest characters in the Dragon Ball manga. In Chapter 114, during the preliminaries at the 22nd Tenka'ichi Budōkai, three familiar faces are hanging out on the sidelines: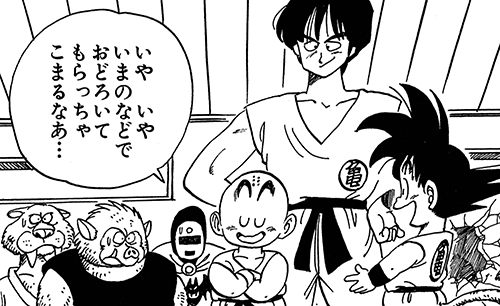 That would be (from left to right), a Killer Tiger, Orc, and Shaman, all originally from Dragon Quest II in 1987.
A couple pages later in the same chapter, a Shaman makes a return appearance, as well as a Cyclops two people to his left. An Archdemon also hides out behind the trio of friends.


Finally, a little bit later on during Chapter 115, both Shaman and Killer Tiger make one last appearance:


Over the decade that Akira Toriyama worked on the Dragon Ball manga, plenty of movie references, cameos, and in-jokes were littered throughout the pages. Beyond these great Dragon Quest examples, what were some of your favorites?