As we correctly predicted based on the official website's countdown timer, this coming Monday's issue of Weekly Shōnen Jump in Japan (WJ 2013 #18) formally unveils the previously-titled Project Versus J for the PlayStation 3 and Vita as J-Stars Victory Vs, along with announcing Naruto as an included series with Naruto Uzumaki himself.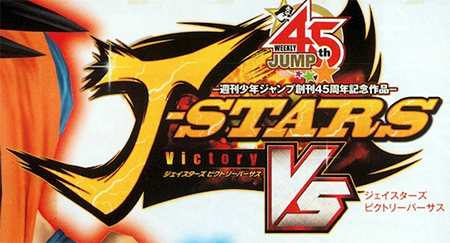 The 3D-field "team battle action" game is being released tied-in with the 45th anniversary of Jump. Naruto (specifically the Shippuden era) joins the previously-announced Toriko, One Piece, and Dragon Ball Z franchises in the game. The issue notes that more characters from other Jump works are promised, as well. The price and release date still have yet to be determined at this point.
The Jump brand is no stranger to video game crossovers, kicking things off back in 1989 on the Nintendo Famicom with Famicom Jump: Hero Retsuden and again in 1991 with Famicom Jump II: Saikyō no Shichinin, both of which featured Dragon Ball. The crossover world expanded with Jump Super Stars in 2004 and Jump Ultimate Stars in 2006 on the Nintendo DS, as well as Battle Stadium D.O.N. (combining just the three series Dragon Ball Z, One Piece, and Naruto) on the PlayStation 2 and Gamecube also in 2006.