Though it is due out this week on 04 April 2013, very little information has been released about Shueisha's Dragon Ball SD Volume 1, the first compilation of spin-off author & artist Naho Ooishi's on-going comic in Saikyō Jump.
Shueisha's own website has finally dripped out a few details, including a proper version of the book's cover art: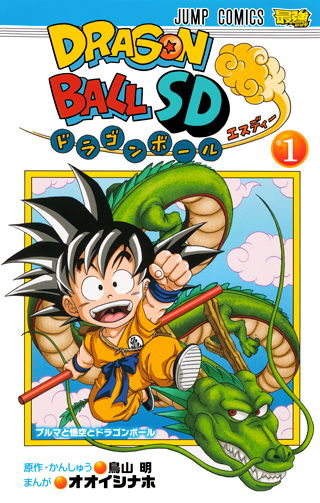 7つ集めて呪文を唱えると、どんな願いも一つだけ叶えてくれるドラゴンボール。ある日、山奥に住む少年・孫悟空はブルマと出会い、球探しを手伝う事に!? あの冒険物語がSDで登場!! 原作ファンも楽しめる!!

---

When you collect the seven Dragon Balls and recite the incantation, any single wish will be granted. One day, Son Goku, a young boy living deep in the mountains, encounters Bulma, and ends up helping her search for the balls!? That tale of adventure appears in SD!! Even fans of the original can enjoy it!!
The volume will run ¥600 and contain 192 pages. No listings online appear to detail exactly which chapters will be included, and in particular if it will start with the four quarterly chapters that skip over the course of the series, or pick up with the monthly chapters that start at the "beginning" of the series. Furthermore, we do not even know if it will be collected in color like its original printings!
UPDATE: We can confirm that Volume 1 of Dragon Ball SD is indeed printed in full color, features nine chapters starting with the reboot from the January 2012 issue of Saikyō Jump, and a few new bonuses such as a new illustration and message of congratulations to Naho Ooishi from original manga author Akira Toriyama.
Dragon Ball SD began with Saikyō Jump as a quarterly publication with four total issues in 2011 re-telling major aspects of the franchise in an even more childish tone. When the magazine switched to a monthly format in 2012, Dragon Ball SD started over at the very beginning of the series with the same kind of writing and artistic style. Last month's issue of Saikyō Jump took a short break from the traditional storyline to feature a one-off "Special Manga Version" of the new film Dragon Ball Z: Battle of Gods.
Volume 1 of the collected Dragon Ball SD is available from CDJapan and Amazon Japan.