Dragon Ball Heroes: Ultimate Mission for the Japanese Nintendo 3DS fell off the Media Create best-sellers list last week — which would have been its fourth week on the charts — but managed to hang in there on the Famitsu list, which pegged it at 8,924 copies for the week.
The game appears to have made a slight comeback during its fifth week (covering the period of 25 March 2013 to 31 March 2013), popping back up at #19 on the Media Create list with another 9,414 copies sold.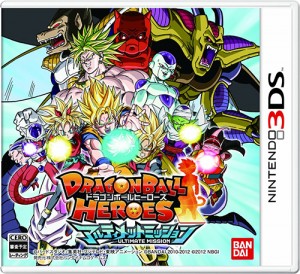 Media Create puts the game at 140,208 total copies sold so far, which also lets us reverse-engineer the math to get 9,097 copies back last week compared to Famitsu's 8,924 — definitely in the same ballpark.
The Heroes brand has absolutely zero penetration outside of Japan (with the exception of a few character designs plopped into 2011's Ultimate Tenkaichi), and while our own Herms says to not lose any sleep over missing out on the game, it sounds like a good bunch of you would still be interested in a localized version. Is this still the case? Hoping any upcoming announcements give you some good news?