Dragon Ball Heroes: Ultimate Mission for the Japanese Nintendo 3DS continues to have a baffling up-and-down sales journey. After falling off the Media Create list for two weeks in a row, the game returns back up to the #5 spot for its tenth week (during the time period of 29 April 2013 to 05 May 2013) with another 15,094 copies sold, now putting it at a very solid 177,157 total copies. In fact, this is the game's third-best week so far!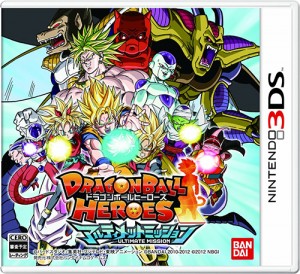 At this point, it may be worth it to break down the sales all in one spot to see these trends (using Media Create sales figures unless otherwise specified):
* Famitsu sales list figures
There has been no word on shipment shortages or manufacturing problems, so it really does make you wonder what on Earth is going on here. Were there shortages that just went unreported? Would digital sales have filled in that void were the game actually available on the Nintendo 3DS eShop? The sixth-week bump makes sense tying in with the theatrical debut of Battle of Gods, and perhaps these tenth-week sales could at least partially be attributed to Golden Week, but we do have to ask: could Namco-Bandai be making an even bigger killing on this game if they really wanted to?