Animazement 2013 kicked off yesterday at the convention center here in Raleigh, North Carolina, and the excitement over the amount of esteemed guests could be felt in the air!
Masako Nozawa (Son Goku, et al.) held a "World of Heroes' Voices" panel early in the afternoon to the delight of a room full of Dragon Ball fans, with translations courtesy of Takayuki Karahashi. Nozawa touched upon Goku's character in that he is not constructed with a traditionally-attractive type of design, but appeals to so many people because of his "boy-next-door" earnestness. Nozawa believes that if everyone in the world could act more like Goku with his selflessness and striving to improve oneself, the world could be a better place. As we have heard from her in so many interviews, she also never confused her various Son family roles; in the couple steps between her stool in the booth and the microphone, simply seeing the characters on screen allows her to fully become those characters. Nozawa also dove back into the early days of her career in the theater business, the real-time dubbing of movies, and how this type of work brought more opportunities. In terms of favorite scenes, Nozawa recounted Goku during the Red Ribbon Army arc where Snow's house is attacked and Nozawa was seriously concerned for Goku's safety, but his "Itaaaaaaai!" ("That hurt!") even after being on the receiving end of gunfire made everything OK. Nozawa also told a story of her (at the time) nine-year-old niece whose friends did not believe her aunt was the voice of Goku, and so went down the line of friends on the pay phone saying, "Ossu! Ora Goku!" as each said "Thank you very much!" and passed the phone to the next friend in line to receive this confirmation.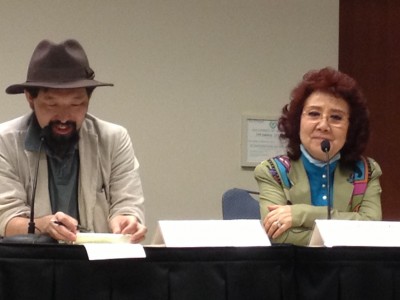 The "Here Comes One Piece!" panel later in the afternoon consisted of Toshio Furukawa (Ace in One Piece, Piccolo in Dragon Ball Z), Ryūsei Nakao (Caeser Clown in One Piece, Freeza in Dragon Ball Z), and Yūko Minaguchi (Portgas D. Rouge in One Piece, Videl/Pan in Dragon Ball Z & GT, ) with translations courtesy of Toshifumi Yoshida. While the title of the panel generally pushed the conversations toward One Piece more than anything else, Dragon Ball obviously made its way into most answers — without prodding! — by all three participants. Furukawa spoke of his monstrous collection of roughly 700 Piccolo figures and 300 Ace figures (now housed in what used to be his wife's clothes closet), while Nakao and Minaguchi confessed that family and friends confiscate any merchandise they bring home. All three spoke of the horrors of video game recordings, with phonebook-sized lines of dialog and sounds to make, usually consisting of endless repetitions of long, medium, and short fighting noises. While each recounted being exhausted when they recorded games, all were in awe of what Nozawa has to do each time with her multiple characters and fusions on top of even them. When asked what would happen were their Dragon Ball characters to meet their One Piece characters, Furukawa responded that Piccolo and Ace would absolutely brawl with each other, Nakao responded that there really was not much difference between Freeza and Caesar Clown besides their laughs, and Minaguchi responded that Videl and Pan would want to protect her other characters.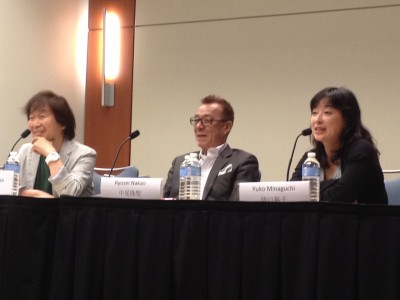 Look forward to more great coverage of Day 2 coming soon!