Animazement 2013 continued into overdrive for its second day with a couple key events: Toshio Furukawa's own panel and a gigantic "West & East Dream Match" panel (with all Japanese and American Dragon Ball guests).
Furukawa's panel — "Talking With Ataru? Piccolo? Or…?" — was filled with stories from the actor's rich history of roles from series such as Urusei Yatsura, Fist of the North Star, One Piece, and (of course!) Dragon Ball. Furukawa updated his figure collection count to roughly 800 Piccolo figures and 350 Ace figures, noting that whenever he sees foreign variations of figures online, he grabs them and enjoys comparing them to the Japanese versions. He noted that during the original process of coming up with his Piccolo voice (a role he was hand-selected for with no real audition), the producers asked him to tone down his otherwise higher-pitched voice. Furukawa asked why they wanted him since he clearly was not a match for the voice they envisioned, but who was he to argue? When asked what Dragon Ball in particular meant to him, Furukawa responded by saying that sometimes the series takes slack for being filled with fighting and violence, but for him it is filled with messages of courage and dreams, and that children can take so much more away from it such as standing up to bullies. Our own question for Furukawa was his thoughts on the character's change into "Uncle Piccolo" during the Majin Boo story arc (particularly with all the Goten and Trunks babysitting). Furukawa responded that he had been hoping for a change in the character by that point in the series, and was relieved and excited to see him move in that direction. In fact, he received many letters of support from fans at that time, too!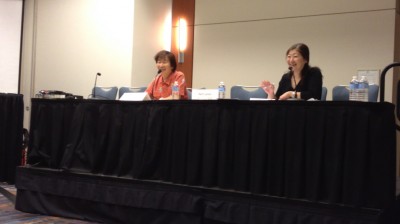 The "West & East Dream Match" panel was one of the biggest for the entire convention, spanning two sections of the upstairs ballrooms. All Japanese and American Dragon Ball guests were invited for a large-scale Q&A session with the fans. The panelists included (from left to right):
Ryūsei Nakao (JP: Tambourine, Freeza, Coola)
Sean Schemmel (US: Son Goku, Kaiō-sama, Nail)
Masako Nozawa (JP: Son Goku, Son Gohan, Son Goten, etc.)
Toshio Furukawa (JP: General Blue, Piccolo)
Kara Edwards (US: Son Goten, Videl)
Yūko Minaguchi (JP: Videl, Pan)
Kyle Hebert (US: Son Gohan, Paikuhan, Narrator)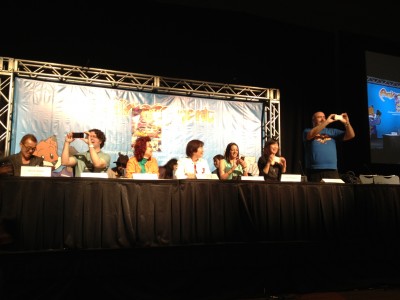 Schemmel began things by noting that we were "sitting in history-making" with such a gathering. Questions kicked off with fun requests such as the types of wishes each actor would make with the Dragon Balls. Answers ranged from Nozawa's wanting to walk the Earth like Goku and make friends with everyone, to Nakao's wishing to turn Freeza into a good guy and not be a villain (thus giving Goku and Freeza very little to do). Her fellow actors shared stories about Nozawa, such as — even these 20+ years later — always coming into the studio wondering what was going to happen next in the story, and Nakao's confession that "Mako-chan" turns into Freeza when she drives. A heartfelt request from a Super Saiyan 3 Goku cosplayer to perform a Kamehameha alongside both Schemmel and Nozawa brought the entire panel to huge applause. Fans asked about favorite episodes, scenes, and specific lines of dialog. Nakao responded that Freeza was only around for a comparatively-short amount of time, but each time they recorded together, Nozawa would remark to him that he (as Freeza) really was a bastard! A particular highlight was Edwards' and Minaguchi's English-then-Japanese performance of the same line: Videl exclaiming to Gohan that she was flying for the first time.
A poster for the new film Dragon Ball Z: Battle of Gods was hung behind the panelists the entire time, leading to at least one question about whether or not we would hear anything about the movie today or perhaps get a chance to view a clip. A quick laugh and resounding, "NO!" from Nakao shut things down pretty quickly, but all hope was not entirely lost: the poster was autographed by the entire group of panelists and submitted for the charity auction to occur shortly thereafter.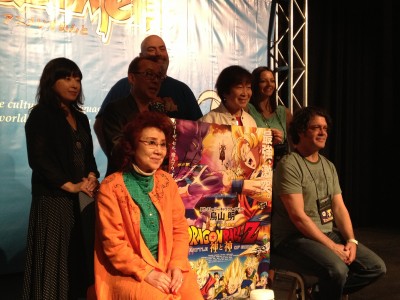 The charity auction was another highlight of the day bringing in an impressive amount of fans (and their money!) to go toward relief efforts. Ryūsei Nakao was on-hand as well as the convention's main emcee to bring in the cash. A batch of kanzenban autographed by the Japanese guests brought in $430 (two Vol. 21 for $50, two Vol. 22 for $55, two Vol. 13 for $40, two Vol. 1 for $70). A copy of Derek Padula's "It's Over 9000!!!" When Worldviews Collide (signed by the author and the Dragon Ball guests) brought in $35. A signed copy of the Dragon Ball Z: Battle of Gods theatrical program guide brought in another $50. A complete set of small, bouncy Dragon Balls were auctioned off one-by-one, saving the four-star ball for last: 1 for $35, 2 for $27, 3 for $27, 5 for $32, 6 for $30, 7 for $45, and finally Sūshinchū itself for $100! A Piccolo figure signed by Toshio Furukawa went for $70, while a Son Goku figure signed by Masako Nozawa went for $120. The final item was the Battle of Gods poster, which immediately shot up to a $100 price point by one enthusiastic fan.
Today was definitely the "big day" of the convention (with the Kanzenshuu community representing in full effect… and you all are awesome), but tomorrow brings us more panels and autograph sessions by the guests — stay tuned for more stories and tidbits!