As we celebrate the conclusion of a new line of guide books (and yet still have tons more material to cover out of them!), we also continue our journey into the past to document some of the previous tomes of knowledge.
The final Daizenshuu — colloquially referred to as "#10" but officially titled "Supplemental Daizenshuu: TV Animation Part 3″ — covered the rest of TV animation material up through the end of the Dragon Ball Z series and the 10th anniversary movie (which had only been previewed at the time of the "Movies & TV Specials" volume). The book's material was appropriately spread out and recontained within the two "Animation Guide" volumes of the recent Chōzenshū. In the interest of proper documentation, however, we have (finally!) put together an overview page for the final Daizenshuu.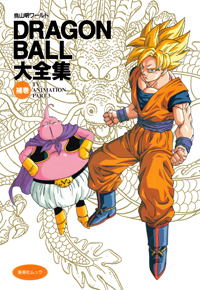 The book contains a wonderful "Super Voice Talks" roundtable which brings together seven of the most important voice actors in Dragon Ball to reminisce about their time recording the series, share amusing moments in and out of the studio, their unanimous respect for Masako Nozawa, and memories of Kōhei Miyauchi (the first Kame-Sen'nin), who had passed away the previous year. In addition to the book's overview page, we have also translated this discussion.
Please enjoy, and look forward to continued coverage of guides and databooks, old and new alike!