After months of teasing out of the European branch of Namco-Bandai, the next big video game for the Dragon Ball franchise will be officially revealed in the upcoming August 2013 issue of V-Jump (due out 21 June 2013), and further shown off in the 2013 #30 issue of Weekly Shōnen Jump (due out 23 June 2013): Dragon Ball Z: Battle of Z for the Xbox 360, PlayStation 3, and Vita.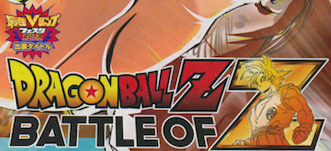 In the franchise's first-ever super battle royale, you can team up with a friend for the ultimate in joint attacks such as "Synchro Rush", "Meteor Chain", and "Revive Soul". "Meteor Chain" appears to be you and your partner teaming up to launch attack after attack, following up each other's attacks, timing it so the opponent has no time to counter. "Synchro Rush" is rushing your opponent at the same time as your partner, resulting in simultaneous hits. "Revive Soul" is reviving a fallen partner, giving them energy to get back in the battle.
Up to four people can play cooperatively, and up to eight can play in battle royale, which includes an online multiplayer option. Descriptions of the game make a big deal about this being a brand new experience for players and Dragon Ball Z games, saying how its biggest feature is team battle action of four versus many. Using four different battle types, you can be victorious at high-speed battles on the ground and in the air.
The game will include real-time team battles against giant bosses, such as Ōzaru Vegeta. Your opponents can also fight as a team, with an example shown in a screen shot being the Ginyu Special Force. Super Saiyan God from the new film Dragon Ball Z: Battle of Gods will also appear in the game, making this the first console appearance for the movie; Super Saiyan God, Beerus, and Whis have separately and jointly appeared in previous games such as Dragon Ball Heroes for the arcade and Nintendo 3DS as well as Zenkai Battle Royale in arcades.
The price and release date for Battle of Z have yet to be determined. Battle of Z is scheduled for public preview at this year's Saikyō V-Jump Festa taking place late-July in Tokyo (20th) and Osaka (27th).
There is no definitive language that specifies whether Battle of Z is a port of the continually-in-progress arcade game Zenkai Battle Royale, but the ties between the two are hard to ignore (multiplayer team fighting, graphical style, etc.). The arcade game received a "Super Saiyan Awakening" update back in 2012 that also included a story mode, and screen shots between that arcade update and story mode screens in the pages of Jump for the "new" game are similar to each other.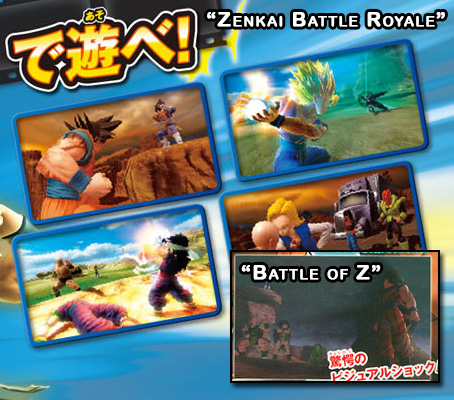 Still due out at some point in the relative near future is also the multi-series crossover extravaganza J-Stars Victory Vs for the PlayStation 3 and Vita, which recently added Ichigo (Bleach) and Kenshin (Rurouni Kenshin) to its roster.