Listings for the various Japanese home releases of Dragon Ball Z: Battle of Gods have updated with a few key bits of information regarding their packaging and bonus inclusions.
The slipcover that will accompany all verisons has been updated from a standing shot of Goku to one of the first key art examples released for the film. The English title has also been corrected from "The Battle of Gods" back to simply "Battle of Gods", while the Japanese Kami to Kami ("God and God") has also been included.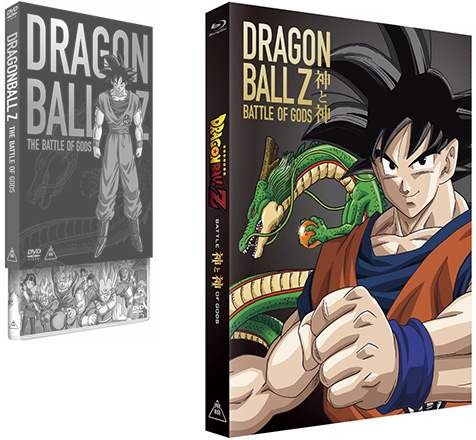 The design of the box for the "Limited Edition" version (on both DVD and Blu-ray) has been altered to include Super Saiyan God Son Goku, while the "three-dimensional wall figure" has also been given a slight overhaul.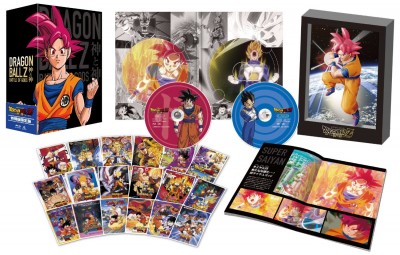 Of particular note is an update to the bonus DVD that will accompany both the Blu-Ray and DVD "Limited Edition" versions. While the disc will still contain recording footage, interviews, and coverage from the film's opening, it will also include the 2008 Jump Super Anime Tour Special, "Heya! Son Goku and Friends Return!!" As it will be on a DVD, the special will obviously be presented in standard-definition, although it will still be in its original widescreen aspect ratio.

So far, the Jump Super Anime Tour Special had only been available on DVD in Japan through a mail-in order form via Weekly Shōnen Jump, V-Jump, and Jump SQ up through February 2009. There was no international release of the special, though Tarble was included as a playable character in all versions of Dragon Ball: Raging Blast 2 on the PlayStation 3 and Xbox 360. Tarble's voice actor, Masakazu Morita, returned to the franchise to voice Whis in Battle of Gods.
Dragon Ball Z: Battle of Gods will be available on DVD and Blu-ray (in standard and "Limited Edition" versions) in Japan 13 September 2013, with certain retailers (such as Amazon and HMV) having special editions of their own with even more bonus materials and packaging.