Along with things like the upcoming re-remaster of the TV series in Spain, it seems like 2013 is shaping up to be an exciting year for European fans, too!
First up is a new line of t-shirts coming this year on the Springfield brand (announced back in April) which will be available online as well as in stores across twenty four countries:
The textile company Helvi 2000 acquired the merchandising rights for Dragon Ball and Dragon Ball Z series.

The Spanish brand Springfield will distribute this new range of Dragon Ball and Dragon Ball Z t-shirts for men (4 designs) that will be launched in 2013 (Spring/Summer collection). This collection will be available exclusively in all European Springfield stores and websites (24 countries).
The shirts do not appear to be up online for order yet, but if you have seen them out in stores, be sure to grab us some photos!
Additionally, Goku and friends were special "guests" at the Kumi Yama summer ski and snowboard competition in France last week.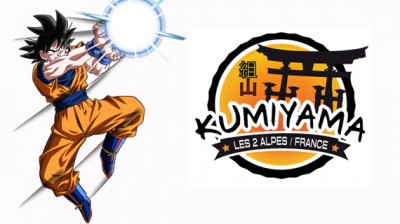 The most awaited annual summer ski and snowboard competition, Kumi Yama, will this year welcome Goku and his friends as official guests from July 5 to 7 at the ski resort "Les 2 Alpes".

Riders will enjoy a dedicated decor on the snowpark and wear a Goku or Piccolo bibs. The costumed characters will also be there for the pictures!

Game One will be the main media partner and two of Dragon Ball Z licensees will also support the Kumi Yama: Namco Bandai Games and Freegun.
Various Dragon Ball characters can be seen across the event's website, and judging from the event's Facebook page, plenty of photo opportunities were available over the weekend:
Additionally, APO has announced a limited-edition Dragon Ball Z snowboard for their winter line which will be available starting in October, and was on-hand at the Kumi Yama event for fans to preview: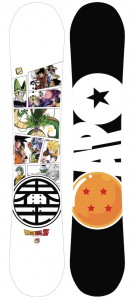 This limited edition snowboard is a triple collaboration with the super powers of Dragon Ball Z, APO and Kumi Yama, with a production of only 100 boards making it a true collectors item.

APO, the pioneers of snowboarding in Europe has joined forces with the leaders of animation from Japan, Toei Animation. The partnership has created a limited edition snowboard featuring the cult Japanese phenomenon, Dragon Ball Z. This late edition to the APO winter line for 13-14 will be available online and in selected stores as of October 2013.

This late release also collaborates with Kumi Yama, Europes largest summer snowboard and freeski event. The event takes place on the Les 2 Alpes Glacier every summer bringing together the best riders in the world from over 20 different countries. In this, the 6th year of the Kumi Yama they follow a Dragon Ball Z theme with the characters being present in the park elements. This summer the APO International snowboard team will be taking part: Sage Kotsenburg, Gerome 'Coin Coin' Mathieu, Aljosa Krivec, Tyler Chorlton and Rowan Coultas.

The limited edition snowboard is 155 cm with a twin tip rocker and APO's double flex technology. This board rocks on any terrain, park, pipe or powder with it's freestyle shape. A true ally for the Dragon Ball Z crew.

Vincent Arnulf, designer at APO realised his childhood dreams to create the design: 'I was a kid when this tv series was out. It's universe spoke to me and it was one of the first 'manga' animations to arrive in France. I loved the graphics, the characters and the frenzy of the quest. I have many manga illustration and constantly reproduce freehand animations, so it was amazing that years later I am able to ride a Dragon Ball Z with APO. So sick!'

How did you work to generate the design?

'Rather than telling the story, I wanted to represent the Dragon Ball Z universe with all the key characters and Sheron in the middle. I also adapted different treatments to the surfaces to highlight the illustrations with a selective varnish'.