The motion-based Xbox 360 exclusive Dragon Ball Z for Kinect jumped from physical disc to digital download two months ago, and its cousin release from last year is joining in on the fun: Dragon Ball Z: Budokai HD Collection is now available on the Xbox Live Games on Demand service.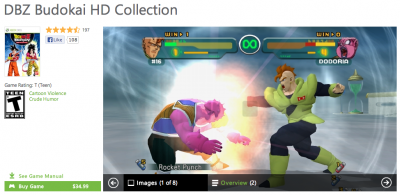 The download will eat up 3.60 GB of your Xbox 360's hard drive and will run you $34.99. The disc version will run you a comparable $35.99 on Amazon at the moment (with the PS3 version down slightly at $33.28).
Dragon Ball Z: Budokai HD Collection collects the first and third (excluding the second) installments from the 2002-2004 trilogy of fighting games developed by Dimps primarily released on the PlayStation 2. The HD versions have had their soundtracks completely replaced and, depending on where in the world you live, contain instances of censorship that you may or may not have originally had in your original release.