At the end of 2012, and leading up to the release of the new film Dragon Ball Z: Battle of Gods, Megahouse announced the release of a "Capsule R" figure line with seven revived popular figures from the series available in capsules, with each also containing a piece that could add up to an eighth and final figure.
A new line of "Capsule R" figures has been revealed today, this time reviving older figures and scenes specifically from the Saiyan arc of the series under the "Warrior Race Saiyan Arc" (戦闘民族サイヤ人編 Sentō Minzoku Saiya-jin Hen) name: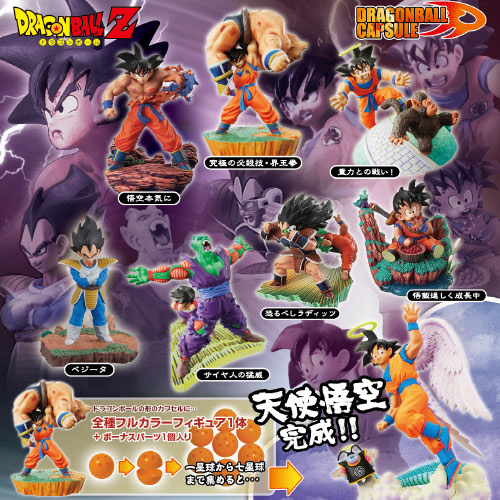 The figures include:
悟空本気に (Gokū honki ni / Goku Getting Serious)
Goku ripping off his torn dōgi before ramping up the Kaiō-ken
究極の必殺技・界王拳 (Kyūkyoku no hissatsu-waza Kaiō-ken / The Ultimate Special Move: Kaiō-Ken)
Goku holding Nappa having raced with his Kaiō-ken to stop him
重力との戦い! (Jūryoku to no tatakai! / A Fight Against Gravity!)
Goku running after Bubbles on Kaiō's planet
ベジータ (Bejīta / Vegeta)
Vegeta standing after Goku's arrival
サイヤ人の猛威 (Saiya-jin no mōi / The Saiyans' Ferocity)
Piccolo shielding Gohan from Nappa's blast
恐るべしラディッツ (Osorubeshi Radittsu / The Fearsome Raditz)
Raditz elbowing both Goku and Piccolo
悟飯逞しく成長中(Gohan takumashiku seichō-chū / Gohan, Growing Up Strong)
Gohan eating some gathered food
As with the previous "Capsule R" line, each capsule contains a piece that can be added together to form one final figure: Goku (and Kaiō!) with halos from the Chapter 417 title page as well as the closing shot of the second TV series closing theme, "We Were Angels".
A seven-pack is available for ¥5,250 MSRP from both CDJapan and Hobby Link Japan. Be sure to note that although there are seven distinct pieces and seven come in each pack for sale, you are not guaranteed to receive each individual figure in your pack. Pre-orders officially open today, and CDJapan specifically notes that their pre-order deadline is coming up soon on 19 August 2013. Toei Animation's online shop lists their own reservation ending date as 20 October 2013 or while supplies last.