When Dragon Ball Tap Battle was first revealed in the May 2013 issue of V-Jump, it was announced that an Android release would come first followed by an eventual iOS release. Months and months passed by after its Android debut with no word of this fabeled iOS version.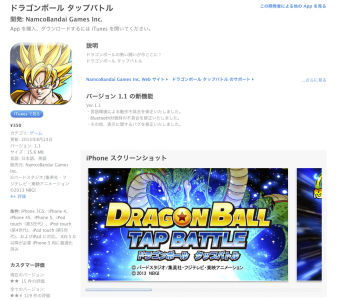 The game initially launched for ¥350 on iOS back on 25 July 2013. A 1.1 update to the iOS version dropped last week on 23 August 2013 fixing a few bugs. The Android version is currently up to a 1.3 update which added a character shop, a feature that is also available in the iOS version.
The current in-app top purchases include Super Saiyan 3 Son Goku, Super Saiyan Vegetto, and Super Saiyan 3 Gotenks.
Of course, purchasing in the game would require you to be able to play the game. Various one-star reviews warn against the game crashing on the early screens, and indeed, our experience backs that up — the game crashes soon after its initial data download.
Hopefully further updates correct these issues, but it is not a particularly faith-inspiring iOS outing so far.