The Amazon Japan listing for the upcoming J Legend Retsuden on the Japanese Nintendo 3DS promises an interesting bonus for customers that grab it early from the online retailer: some sort of downloadable game.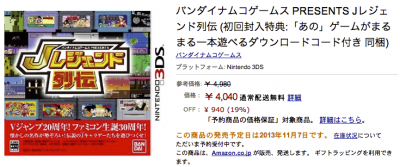 The listing mentions that you will be able to play "that" game in its entirety via a special download game, but of course neglects to mention what said game might be, and if it is one already part of the game's compilation or some sort of separate bonus.
The official website for J Legend Retsuden recently added an interview with Arino-san of Game Center CX, though he speaks about himself rather than talking about the game compilation or its contents.
J Legend Retsuden will be shown off in video form only at Tokyo Game Show in late September. The game is due out 07 November 2013 for ¥4,980 and is so far set to include three Dragon Ball games from the Nintendo Famicom.
The game is also available for pre-order from Play-Asia, which is currently offering free shipping on the game. Play-Asia's listing makes no reference to any bonus downloadable content. As always, we have to note that the Nintendo 3DS is indeed region-locked, so players looking to pick it up will still need a Japanese Nintendo 3DS.