Japanese fan "Toyble" has been hard at work on his Dragon Ball AF comic/series/dōjinshi for quite a few years now — in fact, it was back in 2008 that we first dove into the series on our podcast for a quick review!
When Dragon Ball Heroes: Victory Mission — the spin-off promotional manga currently published in V-Jump — first debuted back in September 2012, comparisons between newcomer "Toyotarō" and "Toyble" flew left and right. No confirmations were ever given, but the signs seemed to be there: the art style similarities, a slight similarity in the two names, and the comparative-slowness of additional Dragon Ball AF work from "Toyble".
A recent release of Dragon Ball AF from "Toyble" contains a special closing message: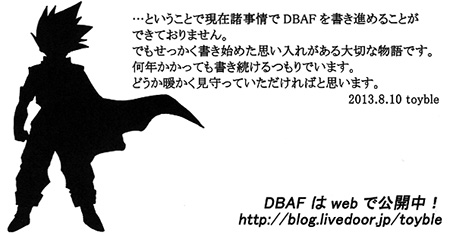 …So, due to a variety of circumstances, I have been unable to continue drawing Dragon Ball AF.
But it's a work I feel an attachment to, since I did get my start writing with it, and all.
No matter how many years it takes, I intend to keep writing.
I hope you'll find it in your hearts to look on it fondly.
— Toyble, 10 August 2013
Between Yi Xing Long stating (within the comic) that Toyble, the ruler of this world, cannot continue the story because he has begun something else instead (along with a mention of a card battle), and Toyble's own message alongside a silhouette of Beat (the hero of Victory Mission), as our own Herms points out, this all but explicitly confirms fandom's theory that "Toyble" and "Toyotarō" may indeed be the same person.
Thanks to various forum folks for keeping on top of the series all these years!