The J-Stars Victory Vs updates are coming fast and furious now. Tokyo Game Show brought us a slew of new character and gameplay updates, and issues of Jump-branded magazines are filling in even more gaps, with next week's upcoming 2013 #47 issue of Weekly Shōnen Jump in Japan (due out on Monday, 21 October) announcing even more for the crossover fighting game extravaganza.
Following on the heels of last week's announcement that Medaka Kurokami of Medaka Box would be a playable character, the characters to be introduced next week are all female.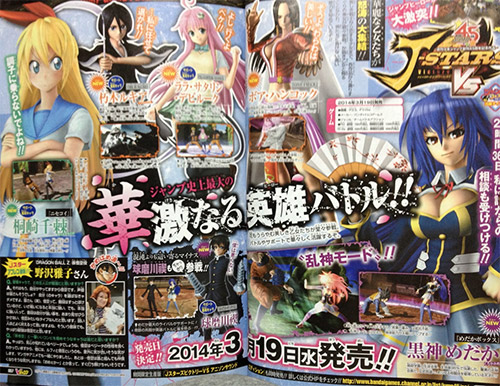 Three of the four characters introduced this time are support characters: Lala Satalin Deviluke of To Love-Ru will restore the player's stamina; Chitoge Kirisaki from Nisekoi can disable opposing support characters with a stinging slap; and Rukia Kuchiki from Bleach can freeze opponents using her Zanpakutō, leaving them open to attack. The lone fighter among next week's additions is "Pirate Empress" Boa Hancock of One Piece, who will be able to use the Devil Fruit powers of her "Love-Love Fruit" to turn opponents to stone.
Perhaps most important of all is the game's release date and pricing scheme. The game will finally drop 19 March 2014 in Japan on both the PlayStation 3 and Vita, with normal and "Limited Edition" versions of both. The "Limited Edition" will run ¥10,980 yen and ¥9,980 yen on the PS3 and Vita respectively, with the normal edition running ¥7,980 and ¥6,980 for the same platforms. The release date announcement also mentions a limited-edition "Anime Song Sound Edition" (presumably containing vocal songs from included series' respective animated adaptations, though there is no actual explanation of the item) to go on sale at the same time, but it is also unclear at the moment whether this is the same as and included within the "Limited Edition" listed above, or represents a separate product with an as-yet unannounced price.
Online retailers have yet to update with appropriate listings for the four different SKUs, but we will keep you updated and point you in the right direction as soon as they are available. The PS3 and Vita are both essentially region-free, with only minor caveats thrown into the mix (such as Persona 4 Arena being software-region-locked on home consoles, and the Vita generally requiring multiple memory cards for multiple profiles and reboots, though they both will indeed play games from all regions).