Namco-Bandai's J Legend Retsuden ("Jump Legend Biography/History") continued with its moderate success in its second week since release. According to Famitsu, the compilation pushed 3,470 copies during its second week (covering the period of 11 November 2013 to 17 November 2013), coming in at the #30 overall spot for the week.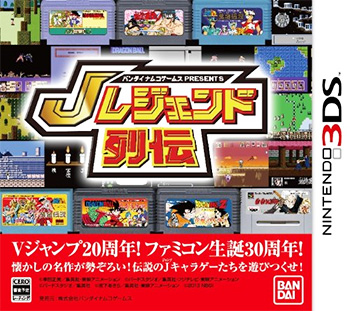 This was, however, a significant drop from its first week sales of 15,920 copies (according to Famitsu; last week, Media Create pegged its first week sales at 17,675 copies).
The compilation combines ten games from the Famicom and Super Famicom library — nine games on the cartridge plus one bonus downloadable for those picking up the first-pressing of the game — with five total Dragon Ball games.
J Legend Retsuden has been released exclusively in Japan for ¥4,980. Play-Asia is currently offering the game at $48.99 with free shipping. Please note, however, that the Nintendo 3DS is region-locked, and the game will require a Japanese system to play.