A couple weeks back, the 2013 #52 issue of Weekly Shōnen Jump in Japan debuted another four support characters for the March 2014 Jump-franchise crossover fighting game extravaganza, J-Stars Victory Vs.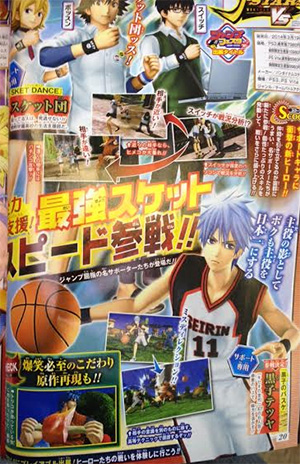 Himeko (Hime Onizuka), Bossun (Yūsuke Fujisaki), and Switch (Kazuyoshi Usui) from Sket Dance work together to support the player: first, Switch analyses the state of the battle via his laptop, and then either Himeko will attack an opponent nearby, or Bossun will fire pachinko balls via slingshot at an opponent farther away.
Tetsuya Kuroko from Kuroko's Basketball, meanwhile, uses some fancy dribbling as misdirection, luring the opponent's attention away from the player and creating an opening.
The article also mentions that scenes from the original manga series the characters belong to will be recreated in-game, with Toriko shown sinking his teeth into a gigantic piece of meat.
J-Stars Victory Vs is due out 19 March 2014 in Japan on the PlayStation 3 and Vita. Regular and "Limited Edition" versions will be available for both platforms. Son Goku and Vegeta are the two characters currently announced from Dragon Ball, alongside a wealth of other characters from Jump series old and new alike.
For those interested in importing the game, CDJapan is currently running a double-reward-points bonus — up to 1600 points — for orders through the 20th of this month. The company has both the "Limited Edition" (PS3/Vita) and regular edition (PS3/Vita) versions for pre-order.