Next week's upcoming 2013 #3 issue of Weekly Shōnen Jump in Japan is set to debut three new playable characters for the March 2014 Jump-franchise crossover fighting game extravaganza, J-Stars Victory Vs, on the PlayStation 3 and Vita. Additionally, the issue reveals details on the game's opening theme song.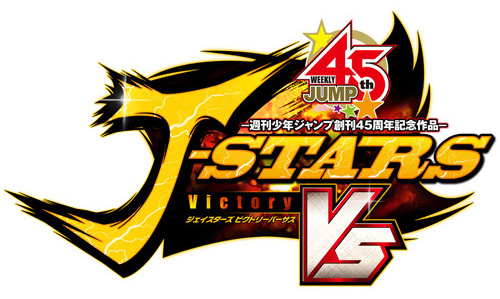 Jonathan Joestar and his grandson Joseph Joestar, from the first and second parts of Jojo's Bizarre Adventure ("Phantom Blood" and "Battle Tendency", respectively), will have their signature moves, Jonathan with his "Ripple" technique and Joseph using clackers offensively.
Meisuke Nueno from Hell Teacher Nube is also profiled, although gameplay involving the character is not shown.
The game's opening theme song will be titled "Fighting Stars" and will be performed by a trio of shōnen music superstars: Hironobu Kageyama (Dragon Ball Z), Hiroshi Kitadani (One Piece), and Akira Kushida (Kinnikuman/Toriko). Kageyama and Kitadani, in addition to performances with the supergroup JAM Project, previously collaborated on the opening theme to the 2006 PlayStation 2 and Gamecube crossover fighting game Battle Stadium D.O.N, "don't give up" (which has, sadly, never received a CD single or soundtrack release).
The advertisement also mentions a preorder bonus in the form of a "J-Stars Victory BOOK" in Jump Comics-style format, featuring information and images of the characters in the game, as well an "augmented reality" app for the PlayStation Vita that will allow characters to "jump out" in 3D, which is available now.
As Wobbufett pointed out on our forum, this brings the total number of series with confirmed representation in the game to 21, the same number promised for bonus audio tracks in the "Limited Edition" version. It is possible that we have seen the extent of the representation for further series, though there is obviously no precise confirmation at this point with three months to go. As it stands, the 21 series currently represented include (with both playable and support characters for certain series):
Dragon Ball (two playable characters)
One Piece (two playable characters)
Toriko (two playable characters)
Naruto (two playable characters)
Bleach
Rurouni Kenshin
Kochikame
Gintama
Yū Yū Hakusho
Hunter × Hunter
Pyu to Fuku! Jaguar (support-only)
Chin'yūki
Medaka Box
Nisekoi
To Love-Ru (support-only)
Katekyo Hitman Reborn!
Beelzebub
Sket Dance
Kuroko's Basketball
Jojo's Bizarre Adventure (two playable characters)
Hell Teacher Nube
J-Stars Victory Vs is due out 19 March 2014 in Japan on the PlayStation 3 and Vita. Regular and "Limited Edition" versions will be available for both platforms. Son Goku and Vegeta are the two characters currently announced from Dragon Ball, alongside a wealth of other characters from Jump series old and new alike.
For those interested in importing the game, CDJapan is currently running a double-reward-points bonus — up to 1600 points — for orders through the 20th of this month. The company has both the "Limited Edition" (PS3/Vita) and regular edition (PS3/Vita) versions for pre-order.