The demo version of the upcoming fighting game, Dragon Ball Z: Battle of Z, is already up on the Japanese PlayStation Network: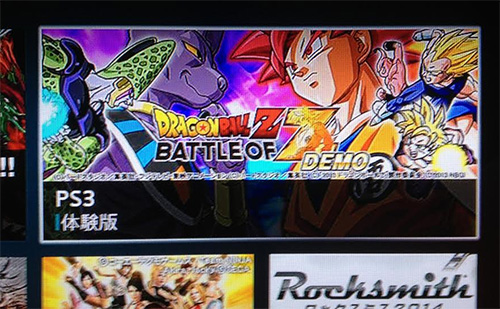 We know that the PS3 and Vita version of the demo will be hitting North America later today, and Namco-Bandai EU has announced that the demo will hit both the PlayStation Network and the Xbox Live Marketplace tomorrow.
The Japanese PS3 demo runs at just over 930 MB. No opening theme is included. Progress you make in the demo will carry over to the final retail release. The single player mission mode of the demo picks up at the very beginning of the game with battles against Saibaimen and Raditz.
UPDATE: Namco-Bandai has confirmed that the North American demo will also be available on Xbox Live alongside in the PlayStation Network release, though it as marked as a Gold-exclusive download.
Go Super Saiyan in NAMCO BANDAI's Dragon Ball Z: Battle of Z Demo Available on PSN and Xbox Live Today!

If you've ever wanted to battle your favorite Dragon Ball Z characters in the manner depicted in the anime series, your opportunity is here! NAMCO BANDAI Games America is excited to announce that its Dragon Ball Z: Battle of Z demo is now live and available for download on the PlayStation®Network and Xbox Live®. The Dragon Ball Z: Battle of Z demo will give players a chance to experience the following modes:

Single Player Mode; includes four missions to complete
Co-op Mode; features one mission allowing players to team up with a friend to defeat other Dragon Ball Z foes
Battle Mode; allows eight players to join in one grand battle, split into two teams
Demo save data will transfer over to retail version saves

Dragon Ball Z: Battle of Z will be available for purchase at major videogame retailers on January 28, 2014 for the Xbox 360 games and entertainment system from Microsoft, the PlayStation 3 computer entertainment system, and PlayStation®Vita handheld entertainment system (digital download only) in the Americas.
Battle of Z is due out in Japan 23 January 2014, in Europe 24 January 2014, and just a few days later in North America 28 January 2014. First-pressings in Japan will come packed with a download code for Son Goku in his Naruto "Sage Mode" outfit along with a Dragon Ball Heroes card. North American and European releases will have pre-order downloadable content in the form of the Naruto outfit as well as Super Vegetto and Super Saiyan Bardock, while Europe alone will be receiving a special "Goku Edition" of the game with further physical bonus material.