Following up on their previously-announced license of the Dragon Ball GT TV series — due out starting next month with the first of two boxes corresponding to FUNimation's North American "season release" — Manga UK has now also picked up the license to the original 153-episode Dragon Ball TV series for release in 2014.
The DVD publisher Manga Entertainment that already released the Dragon Ball Z series in the UK acquired the DVD rights for Dragon Ball and Dragon Ball GT series.

The 64 episodes of Dragon Ball GT will first be released in two boxes: the first one on 20th January and the second one on 17th March.

The Dragon Ball boxes are planned to be released in summer 2014.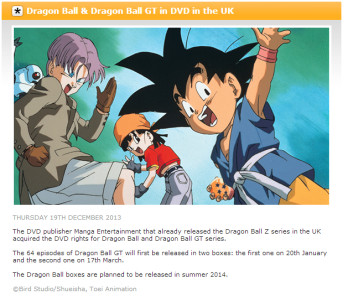 With Manga UK releasing sets corresponding to FUNimation's North American releases, it is likely that the five "blue bricks" will be the products fans across the pond will have coming their way.
Toei's English language website has been the original announcement source for several of these kinds of tidbits, including Manga UK's own not-so-well-kept-secret of their Dragon Ball Z TV series license.