With the first release hitting North American shelves this past week from FUNimation, it seems that Madman is jumping on the bandwagon to adopt the company's latest Dragon Ball Z TV series Blu-rays for an Australian release in April 2014.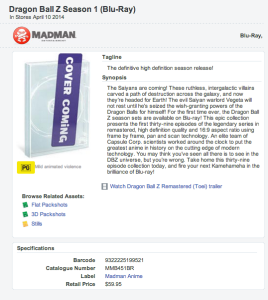 The first set is currently set for a 10 April 2014 release with an MSRP of $59.95 AUD.
In addition to on-again/off-again Kai releases, Madman put out their version of FUNimation's Dragon Ball Z DVD orange brick season packs over the course of 2007-2009.