Namco-Bandai and Shueisha have just recently announced the strategy guide to accompany the upcoming release, Dragon Ball Z: Battle of Z, hitting the Xbox 360, PlayStation 3, and Vita later this month.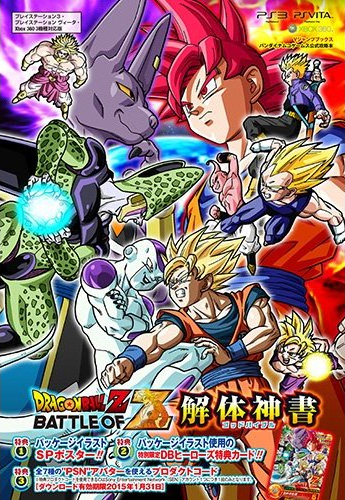 The "解体神書" (literally "[Game] Dissection God-Book", stylized in kana as Goddo Baiburu or "God Bible") will cover all three versions of the game and its various characters, missions, and in-game items such as cards.
The strategy guide will also come with three bonus items: a special poster, a special Dragon Ball Heroes card using the game's box-art, and a product code that will give the buyer access to seven different PSN avatars.
The 192-page softcover book will be released 23 January 2014 for ¥1,200 and is currently available for pre-order on Amazon Japan.
Battle of Z is due out in Japan 23 January 2014, in Europe 24 January 2014, and just a few days later in North America 28 January 2014. First-pressings in all territories will come packed with a download code for Son Goku in his Naruto "Sage Mode". Europe alone will be receiving a special "Goku Edition" of the game with further physical bonus material. A playable demo of the game is now available worldwide.