Sony has announced their "PS Vita PLAY" program covering the next month of new releases for their latest portable system. As a part of this, PlayStation Plus subscribers will be able to obtain these downloadables versions of games for a reduced price, and if multiple games are purchased, gamers will receive a small amount of cash back on their account.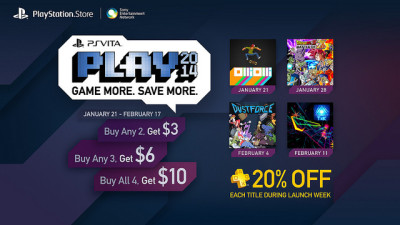 Dragon Ball Z: Battle of Z will be included as a part of this promotion, and will be available to Plus subscribers at a reduced price of $31.99 (down from the $39.99 MSRP).
While free games obtained via the PlayStation Plus service expire when a subscription lapses, games purchased as a Plus subscriber – even at a reduced rate – are yours to keep.
Battle of Z on the Vita will be a download-only version in North America anyway, so those looking to pick it up on release may wish to look into a Plus subscription if you have not already!
Battle of Z is due out in Japan 23 January 2014, in Europe 24 January 2014, and just a few days later in North America 28 January 2014. First-pressings (of physical releases) in all territories will come packed with a download code for Son Goku in his Naruto "Sage Mode". Europe alone will be receiving a special "Goku Edition" of the game with further physical bonus material. A playable demo of the game is now available worldwide.
There has not been any clarification just yet over downloadable content in the Vita version (either the Naruto-franchise outfit or either retailer-specific pre-order characters), but we will let you know as soon as we can!