As the digital version wraps up the Saiyan arc in Viz's Weekly Shonen Jump, the company is getting ready to unleash their print version of the Dragon Ball "Full Color" comics onto the English-speaking world.
What we can tell so far from the company's previews online is that the Japanese sound effects will be kept as-is (unlike their original releases of the manga with re-typed English-language sound effects), and the typeset has been rekajiggered from the Shueisha-imposed Optima Nova Condensed to what we see in pretty much every other release.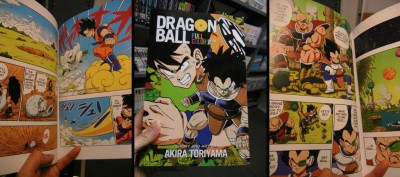 And yes, we are all reading this tweet as another jab at cropped home video releases.
Viz's 248-page first "Full Color" print edition is due out 04 February 2014.
Be sure to check out our quick looks at both Shueisha's Japanese print edition and Viz's English digital edition of the "Full Color" comics from last year.