Each Friday next month, a "Vomic" ("Voiced Comic") of Jaco the Galactic Patrolman will be added to Shueisha's official "Vomic" website.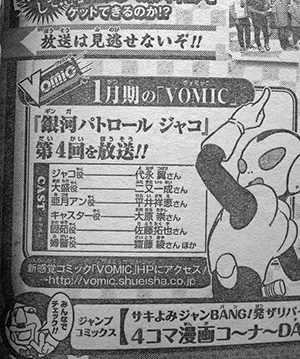 Shueisha's various "Vomic" series include manga scans with the occasional motion graphics that are fully voiced. The Jaco "Vomic" is currently running on the TV program "Saikyomi JanBANG!" but will be added online starting 06 February 2014 with four installments in all. The cast will include:
Jaco – Tsubasa Yonaga
Omori – Issei Futamata
An Azuki – Sachie Hirai
Newscaster – Takashi Ōhara
Katayude – Takuya Satō
Policewoman – Aya Saitō
All but Futamata belong to the Ken Production agency.
Jaco the Galactic Patrolman was an 11-chapter manga series by Akira Toriyama that ran from the 2013 #33-44 issues of Weekly Shōnen Jump in Japan, and also saw a simultaneous digital release in English by Viz. Originally teased by Shueisha as the "shocking revival of Dragon Ball!!", by the series' completion it became clear that it was indeed a true prequel to Dragon Ball.
A collected release of the manga was originally due out in Japan this past January, but has completely slipped from any upcoming release calendar and may be held back for an April release. There is currently no word from Viz on a collected English release either in print or digital form.