The March 2014 issue of V-Jump in Japan (officially released 21 January 2014) reveals that the Japan-exclusive, arcade-only, multiplayer fighting game Zenkai Battle Royale is still rocking with more fighters joining the roster, namely Ultimate Gohan.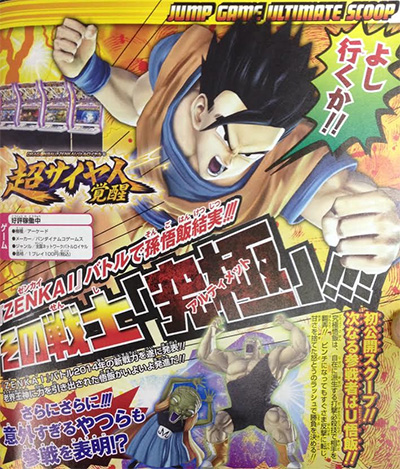 With Gohan's finishing move he will be able to toy with his opponent. If he gets into a tight spot, he can immediately switch to countering, and then end the match with a surging rush.
Gohan is not joining alone, though!
さらにさらに!!!
意外すぎるやつらも
参戦を表明!?

---

But that's not all!!!
Some all-too-unexpected guys also announce their joining of the battle?!
Spopovitch and Bobbidi, shown but not actually named, were last seen in action back in 2007's Sparking! METEOR ("Budokai Tenkaichi 3" internationally) on the PlayStation 2 and Wii. There is no explanation made as to whether both will be playable, or if Bobbidi will join Spopovitch as a sort of assist-type character.
Zenkai Battle Royale, originally revealed in late 2010, most recently received Bardock and Coola as playable characters.