This week's upcoming March 2014 issue of Saikyō Jump in Japan contains a wealth of new and bonus Dragon Ball material, namely a "Super Kanzenban" reprint of Naho Ooishi's Episode of Bardock manga (originally published in three chapters over the June, July, and August 2011 issues of V-Jump), itself containing the original three chapters and two bonus pages, a six-page spread of SD ("super deformed")-related content, and a ten-question Q&A session with original Dragon Ball manga author Akira Toriyama.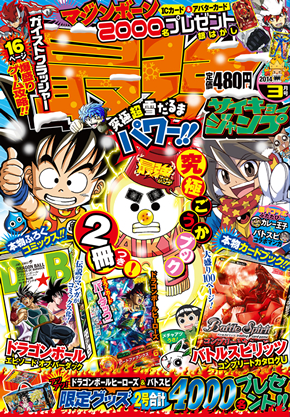 While most recent Toriyama Q&As have been tied to the film Dragon Ball Z: Battle of Gods and went into detail with story bits in that film alone, this new Q&A naturally goes into Bardock's family a little bit, which includes dropping the biggest naming-a-charcter bombshell since the reveal of Mr. Satan's true name: in this case, Toriyama has finally given a name to Goku's mother!
As for her appearance and such, you'll find out if you read the bonus comic in the collected release of Jaco the Galactic Patrolman. Her name was Gine, and a long time ago, she fought on a four-person team together with Bardock.

Gine had a gentle personality and wasn't cut out as a warrior, being repeatedly saved from danger by Bardock. At that time, a special emotion was born between them. Normally, Saiyans don't have much of a notion of romance or marriage, and apart from the royal family of Vegeta, they aren't particular about blood-relationships. Being in among all that, I suppose you could say that the pair of Bardock and Gine were those rare Saiyans who were joined by a bond other than for the purpose of reproduction. Incidentally, Gine, who was not cut out as a warrior, would go on to work at the meat distribution center on Planet Vegeta.
ギネ (gine with a hard "G" sound at the beginning and an "eh" sound at the end) is likely an anagram of ネギ (negi) or "green onion" (also known as "spring onion" or "scallions") and, as noted, will be shown off in the bonus pages of Jaco the Galactic Patrolman in this coming April's collected edition of said manga.
If nothing else, though it was already rather heavily implied, those willing to accept new information from the author in 2014 can put to rest any rumors about Selypa being Goku's mother.
Toriyama also goes on to mention that, were there to be another movie in the future, he might like to let Vegeta have a little bit of the spotlight (an interesting turn of opinion from his original thoughts on the character):
As for Vegeta, in the event that there's talk of another animated film, then next time, I'd like him to play the main role. (Of course, this is nothing more than intentions, and I haven't decided anything at all.)
The full ten-question Q&A has been archived on a new page in our "Translations" section. Special thanks to @manganewsjapon for providing us with the full text as we wait for someone to actually sell us the darn magazine in Japan (silly release dates!), officially due out 04 February 2014.