The March 2014 issue of Saikyō Jump is still a day out from release in Japan, but it is seemingly available almost everywhere at this point. Not only does it contain a "Super Kanzenban" of Episode of Bardock (including a new Q&A with Akira Toriyama that features new information), but it also announces the second collected volume of Naho Ooishi's Dragon Ball SD: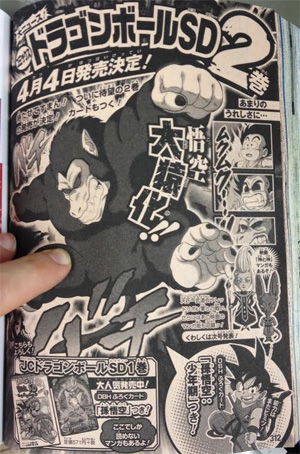 The volume is slated for release 04 April 2014, the same day as the collected release of Jaco the Galactic Patrolman, and exactly one year to the day from the release of the first volume (which was indeed released in the same full-color format as the Saikyō Jump versions of the chapters). The second volume is stated to include the conclusion of the 21st Tenka'ichi Budōkai and the beginning of Goku's encounters with the Red Ribbon Army, along with the SD Battle of Gods special manga that originally ran last March in the magazine's April 2013 issue. There will also be a pack-in bonus Dragon Ball Heroes card, "Son Goku: Boyhood". More details are promised in the April 2014 issue of Saikyō Jump, due out 04 March 2014.
Dragon Ball SD began with Saikyō Jump as a quarterly publication with four total issues in 2011 re-telling major aspects of the franchise in an even more childish tone. When the magazine switched to a monthly format in 2012, Dragon Ball SD started over at the very beginning of the series with the same kind of writing and artistic style. The first collected volume picked up with these monthly chapters, leaving the original four chapters exclusive to their first magazine publications.
Naho Ooishi began with the franchise in 2009 by writing and illustrating a two-part adaptation of the Jump Super Anime Tour Special in V-Jump. Along with Dragon Ball SD, Ooishi has also been responsible for Episode of Bardock, which itself was adapted into a Jump Festa special feature.