Announced in today's April 2014 issue of V-Jump in Japan, as a part of the upcoming mid-March 2014 "JM3" (Ja'aku Ryū Misshon / "Evil Dragon Mission") update to the card-based arcade game Dragon Ball Heroes, Vegetto will be receiving his own Super Saiyan 3 transformation. As the battle, system, and characters all reach new heights in "JM3", so will the mightiest fused father!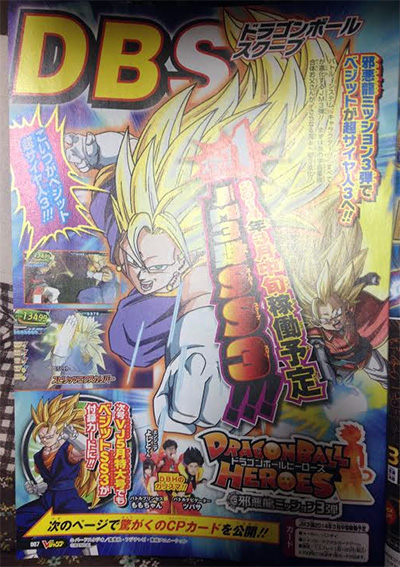 Vegetto is the fusion of Son Goku ("Kakarrot") and Vegeta with the Potara earrings from the tail-end of the Majin Boo story arc. Within the Dragon Ball series itself, the character powered up to "Super Vegetto". The character is described in Daizenshuu 7 / Chōzenshú 4:
As he is the fusion of two Saiyans, there is not all that much change in appearance. Like Goku's face combined with Vegeta's hairstyle. Possessing Vegeta's calm battle logic and Goku's pure fighting sense, there is no doubt that he has attained a strength rating surpassing Super Saiyan 3. He is able to transform from his normal state into Super Saiyan. He has traits such as his power remaining the same even when his form changes. He was born only once, and fought with Majin Boo.
Next month's May 2014 issue of V-Jump (due out 20 March 2014) will include a Super Saiyan 3 Vegetto bonus card for the game.
Gogeta, the fusion of the same characters using the dance method who first debuted in Dragon Ball Z Movie 12 back in 1995 (as well as a Super Saiyan 4 in Dragon Ball GT's 60th episode), also received a Super Saiyan 3 transformation in Dragon Ball Heroes last year.