Japanese rock band "Good Morning America" has announced via their official website that their new single "Dear Zarathustra" (拝啓、ツラツストラ; Haikei, Tsuratsusutora) will be the new ending theme song for Dragon Ball Kai as it picks back up for the Majin Boo arc. They do note that this theme will only be used for the first quarter of the story arc, indicating that there will be additional ending themes used as the arc progresses, similar to what was done with Dragon Ball GT.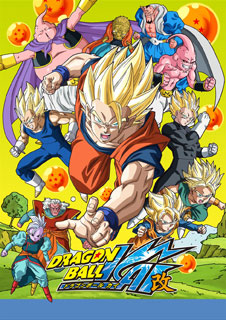 The band has also announced a 06 May 2014 release date for the CD single, which will be available in two limited edition releases and a standard edition. No online retailers are currently listing the CD single.
Limited Edition: A Type — Catalog No. COZA-905 (¥1,500 + tax)
Includes a 2 track CD and an exclusive live concert bonus DVD.
Limited Edition: B Type — Catalog No. COCA-16858 (¥1,300 + tax)
Includes a 2 track CD with an exclusive extra bonus track of a recorded live radio show performance.
Standard Edition — Catalog No. COZA-16859 (¥1,000 + tax)
Same CD as the "Type A" limited edition, although with karaoke versions of both songs.
There is no word yet on any possible change to the series' opening theme. "Dragon Soul" (by the group also named "Dragon Soul" fronted by Takayoshi Tanimoto) was used for the entire previous run of Dragon Ball Kai even after the ending theme switch from "Yeah! Break! Care! Break!" to "Kokoro no Hane" during the Cell arc.
Dragon Ball Kai, the "refreshed" version of the Dragon Ball Z TV series originally created for its 20th anniversary in 2009, officially kicks off into a new era 06 April 2014 in Japan on Fuji TV at 9:00 a.m. It will be reclaiming its spot in the "Dream 9" block — taking it back from Toriko — alongside One Piece.
Thanks to our buddy kei17 for the heads up!