In addition to a few words from original manga author Akira Toriyama himself, the May 2014 issue of V-Jump — in promotion of the upcoming revival of Dragon Ball Kai for the Majin Boo story arc — contains a few words of wisdom from three of the series' most notable voice actors: Masako Nozawa (Son Goku, et al.), Ryō Horikawa (Vegeta), and Kōzō Shioya (Majin Boo). Their comments have been archived on a new page in our "Translations" section, so be sure to check that out.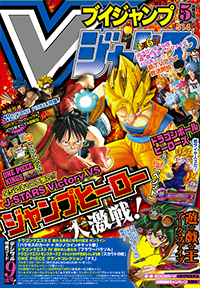 Finally, just before the release of the May 2014 issue of V-Jump last week, the series' new musical composer Norihito Sumitomo commented about the recent broadcast of Dragon Ball Z: Battle of Gods and the continuation of Dragon Ball Kai on his official website. The following is an excerpt of his comments about Kai, but you can read the entirety of his original post in our "Translations" section.
Then, from 06 April (Sun.), every week at 9 a.m. on Fuji TV, Dragon Ball Kai: Majin Boo Arc will start. Actually, this work is something [that was started] even before Dragon Ball Z: Battle of Gods, produced in secret over about a year. It's planned to be aired widely overseas, as well.
Dragon Ball Kai will premiere 06 April 2014 — in less than two weeks at this point — on Fuji TV at 9 a.m., rejoining One Piece as part of the "Dream 9" anime block. We'll be sure to keep you up-to-date with the latest news as it comes out during this lead up to its premiere!