In addition to the revamped website, which we mentioned earlier, Toei Animation also held a pre-broadcast press screening yesterday (28 March) to help build buzz for the series' relaunch. As such, the Japanese press (as well as the series' own website) are abuzz about the series' continuation starting this 06 April in Japan.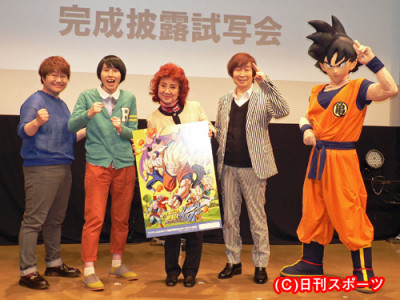 Headlining the event as MC was Fuji TV announcer Mizuki Sano along with comedy-duo Harisenbon; member Haruna Kondō was repeatedly referred to as "Majin Boo" throughout the event. In attendance were Masako Nozawa (Son Goku, et al.) and Toshio Furukawa (Piccolo), along with the performers of the opening and ending themes, "Dragon Soul" (Takayoshi Tanimoto and Takafumi Iwasaki, with "Kuu-Zen-Zetsu-Go") and Good Morning America ("Dear Zarathustra"). Tanimoto performed the full version of the new opening live for the first time.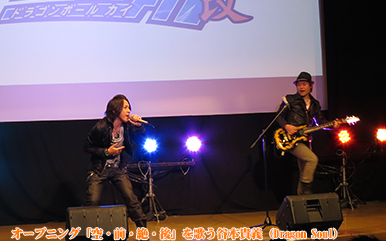 Nikkan Sports quotes Nozawa as mentioning (as she has before) that they frequently had to record their voices against unfinished lineart during Z, and so having finished animation for Kai made it much easier for them to act. Furukawa mentioned how, with improvements in audio technology, it's now possible to hear the fine details of their performances when playing it back. However, Nikkan Sports previously posted and then deleted an earlier version of the article in which Nozawa goes on to say that the series will air for a year, and that the episode count has been "halved" from the original 92 in Dragon Ball Z. Whether this means there will be exactly 46 episodes or somewhere around that number is unclear.
Finally, as he did five years previously, creator Akira Toriyama had a written message for those in attendance, although this time he went into much greater detail in what is essentially an expanded version of his comment that was published earlier this month in V-Jump: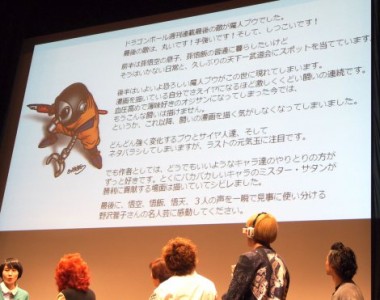 The final opponent of Dragon Ball's weekly serialization was Majin Boo. The final opponent is round! Formidable! And tenacious!

In the first half, the spotlight shines on the everyday life of Son Goku's son, Son Gohan, who wants to live an ordinary life but can't, as well as the first Tenka'ichi Budōkai in a long time.

In the second half, Majin Boo makes his appearance in the mortal realm at last. It's a string of battles intense enough for even me, the person writing the comic, to get sick of. Now that I've become an old man with high-ish blood pressure and a taste for things mild, I can't draw these sorts of battles anymore. Or rather, I've lost the will to draw a battle manga from here on out.

Boo and the Saiyans, who keep transforming to become stronger and stronger, and — to give out spoilers — the Genki-Dama at the end, are parts to watch out for.

But as an author, I greatly prefer trivial character interactions. In particular, it was electrifying drawing the silly character Mr. Satan contributing to the victory.

Lastly, please be moved at the masterful performance of Masako Nozawa-san, who performs the admirable feat of switching instantaneously between the voices of Goku, Gohan, and Goten.
This message will be archived shortly in our "Translations" section.
Thanks to kei17 for his help in keeping track of the press coverage! Stay tuned for more as the Kai promotional machine ramps up into high gear!