An article published today on Oricon promotes the impending Japanese collected release of the Jaco the Galactic Patrolman manga series by Akira Toriyama. In addition to comments promoting the series itself, the article also notes that the bonus comic, Dragon Ball Minus, will introduce Goku's mother for the first time, and will cover the time period up to Goku being sent to Earth.


The trinkets promised alongside the "Super Elite Edition" — specifically the keychain and Galactic Patrol badge — are also detailed in photos:
Finally, included amongst the photos is one with a caption stating matter-of-factly (despite its having never been reported up to that point) that Akira Toriyama's "legendary group of works" will receive reprints with new obi containing a brand-new illustration. Judging by the image provided, these new illustrations appear to come with new comments from the author, as well. It is unclear, however, whether they will only cover Toriyama's short serials post-Dragon Ball, or if his one-shot collections, or even Dr. Slump and Dragon Ball, will also be included.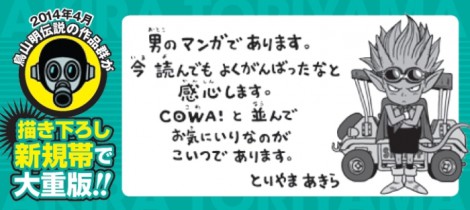 04 April 2014 is set to be an exceedingly busy (and expensive!) day for fans of Dragon Ball and Akira Toriyama, with not only two versions of Jaco the Galactic Patrolman and new illustrations packed into Toriyama's existing works, but also three new volumes of the "Full Color Comics", the second volume of Dragon Ball SD, the May issue of Saikyō Jump (containing the SD serialization and the Dragon Ball GT anime comic), and Akira Katsura, which contains Sachie-chan Gū! and Jiya, the two collaborative works between Toriyama and longtime friend Masakazu Katsura.
Jaco the Galactic Patrolman was an 11-chapter manga series by Akira Toriyama that ran from the 2013 #33–44 issues of Weekly Shōnen Jump in Japan, and also saw a simultaneous digital release in English by Viz. Originally teased by Shueisha as the "shocking revival of Dragon Ball!!", by the series' completion it became clear that it was indeed a true prequel to Dragon Ball.
Viz will release their collected edition of the series in English in January 2015.