Originally teased alongside the reveal of Ultimate Gohan, the May 2014 issue of V-Jump — now also alongside the game's official website — finally dish out a few more details about the latest character to join the Zenkai Battle Royale roster, Spopovitch… alongside Bobbidi!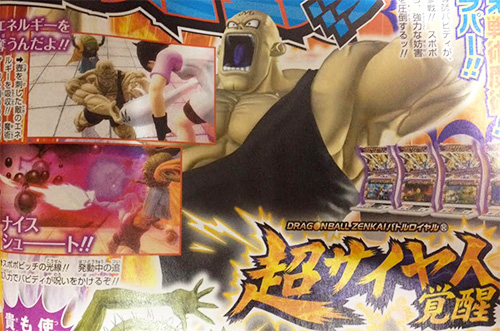 Spopovitch and Bobbidi work in tandem with each other. If you are hit with Bobbidi's "Interference Magic Bullet", which is performed by hitting ki and physical attack at the same time, whenever you use up ki, you also lose health. This affects not only ki blasts and finishing moves, but also the Homing Dash, so it has quite a strong interference effect. You can also fire an Interference Magic Bullet after Spopovitch makes a "Nice Shot!" so you can actively interfere with opponents who have let their guard down. To perform Bobbidi's interference magic, you need a dark magic gauge. If the gauge disappears, Bobbidi will order Spopovitch to steal energy for you to then gather. When you really want to aggressively attack your opponent, you can have Bobbidi draw out Spopovitch's power, which you can do so long as there is dark magic in its respective gauge. However, if you still can't win against your opponent even with all of this, you can use your last resort, "You are of no further use", and get your opponent with Spopovitch's self-destruction. Bobbidi is not picking about what methods he uses in order to win!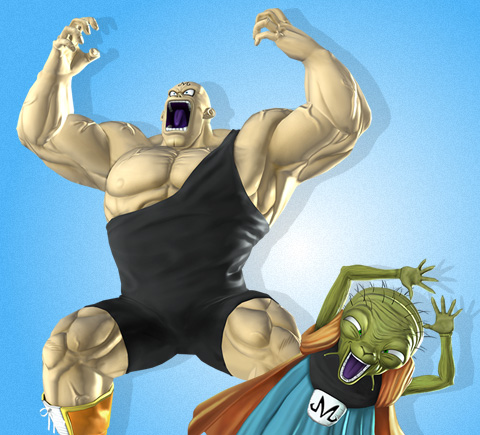 Spopovitch and Bobbidi were last seen in action — as separate characters — back in 2007's Sparking! METEOR ("Budokai Tenkaichi 3" internationally) on the PlayStation 2 and Wii.
Zenkai Battle Royale, originally revealed in late 2010, continues to go strong in Japanese arcades. No home port has been announced.