Viz has released their official English translation of Dragon Ball Minus — the bonus chapter of Jaco the Galactic Patrolman which details Goku's final days on Planet Vegeta with his father (Bardock) and mother (Gine) — within today's 2014 #19 issue of Weekly Shonen Jump.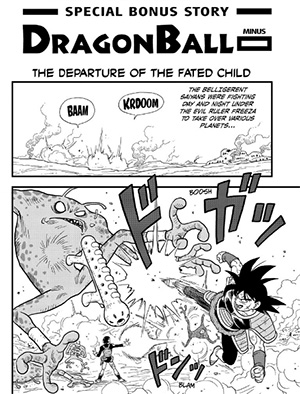 Individual issues are available for $0.99 each, while a yearly subscription (48 issues) costs $25.99.
Dragon Ball Minus was originally released last Friday in Japan within the collected edition of Jaco the Galactic Patrolman, itself available in print as both a regular and "Super Elite" edition. Viz will release their English-language collected edition of the series, both digitally and in print, in January 2015.
We have added a full Dragon Ball Minus documentation page to the Jaco the Galactic Patrolman section of our "Official Manga Spin-Offs" guide. Included alongside a full summary of the chapter are details on its promotion, notes regarding references within its content (including contradictions between this manga and anime-original content), and the introductory quote from Akira Toriyama:
思わぬところでドラゴンボールの過去が少しわかったところでさらにもう少しだけさかのぼり、作者もはじめて知った(!)悟空が地球へ飛び立つようすを特別に描き下ろしてみました。
---
Just when you've unexpectedly learned a little bit about Dragon Ball's past, I've specially gone back just a little bit further, and drawn anew the circumstances of Goku's departure for Earth, which even the author found out for the first time(!).
Stay tuned to Kanzenshuu for even more coverage of Dragon Ball Minus in the near-future!