The collected edition of Jaco the Galactic Patrolman finally saw its release — both in regular and "Super Elite" editions — last week in Japan. Now that we have had a little time to digest it and the wealth of other books that came out alongside it, we noticed (thanks to the sharp eyes of @simizukenta) a few bits of dialog changes from its original serialization in Weekly Shōnen Jump last year.


WARNING: Spoilers Ahead!
The first chapter alone features several changes. Jaco's comment about knowing all of the galaxy's languages is changed to say that he has Earth's language, and even culture and history, in his head; the subsequent line says that these "data" (rather than the "textbook") were input directly into his brain. @simizukenta speculates that this less all-encompassing line was done to mesh with Jaco's confused reactions to certain Earth words, notably rakkasei (peanuts) and go-reijō (an extremely polite way of saying "daughter"). Additionally, instead of skipping out on the data input session for how to repair his ship, it "cost money" so he did not get it.
Later on, in the final chapter, it is noted that Bulma, having already graduated from university, is a special instructor at the school's request, which is why she is on summer vacation in Dragon Ball-proper (of course, this does not explain why she would then be cutting Saturday-morning classes during the Red Ribbon arc!).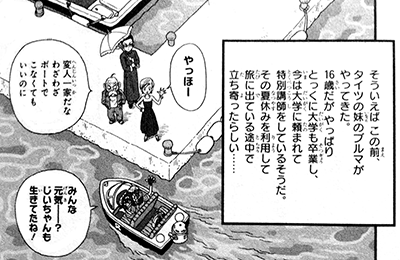 Finally, while unrelated to dialog, the two pages which were originally published in color have been grayscaled down for the collected edition. While it is not unusual to have color pages reprinted in black-and-white for a tankōbon release (as was the case with Dragon Ball itself…!), in this case the coloring has been entirely removed and replaced with monochrome shading. This is no doubt made possible by Akira Toriyama having drawn this series entirely by computer.
Jaco the Galactic Patrolman was an 11-chapter manga series by Akira Toriyama that ran from the 2013 #33–44 issues of Weekly Shōnen Jump in Japan, and also saw a simultaneous digital release in English by Viz. A bonus chapter — Dragon Ball Minus — was included in last week's collected edition in Japan. Viz will release their English-language collected edition of the series, both digitally and in print, in January 2015.