Originally announced via the UK branch of Bandai Namco two months ago (and actually released there a month ago), North American Vita owners have as-of-yet been stiffed on the patch that enables Japanese voice support in the Vita version of Dragon Ball Z: Battle of Z.
This has finally been rectified with the 1.01 patch in North America!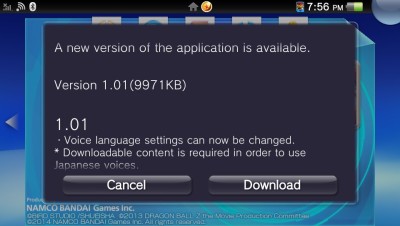 Head on into the live update area of the game's main menu to download the ~10 MB patch, which was actually pushed out last week. You will additionally have to download a 281 MB bit of content — beyond just the patch — to incorporate the Japanese voice track, however. As with the European version, this DLC is free to download. To enable the Japanese voices, simply head on into the "Options" menu screen a la the console versions of the game; a new "Voice Language" selection will be available.
@IMissBionix also noticed that, as part of a somewhat stealthy update across the PlayStation Network with lots of other PSP games, Shin Budokai: Another Road is available for download on the Vita if you had digitally purchased it in the past. The game was removed from the online storefront when Bandai Namco regained North American distribution rights from Atari, so unless you already have the game tied to your account, you will be unable to download it.