The 2014 #21 issue of Weekly Shōnen Jump in Japan, as well as this week's June 2014 issue of V-Jump, have announced a 07 August 2014 release date for Dragon Ball Heroes: Ultimate Mission 2 on the Nintendo 3DS. The game will retail for ¥5,690. Bandai Namco also have just unveiled the cover for the game: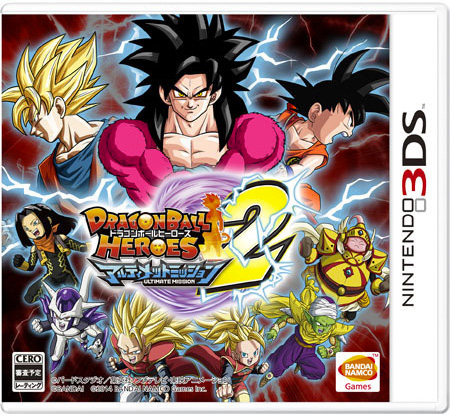 The game is set to include missions from 21 iterations, from the original arcade game's first edition to the "Evil Dragon Mission" 3 update. There will be over 2,000 cards, which is more than twice the amount in the first game. Players will be able to carry over card data from the first game to the second game. A new "Ultimate Universe Mode" will be included for players to traverse.
First-press copies of the game will come with bonus materials.
Dragon Ball Heroes: Ultimate Mission 2 is available for pre-order from CDJapan and Play-Asia. Please note that the Nintendo 3DS is a region-locked system; a Japanese console is required to play the game.
The first Ultimate Mission — released back in February 2013 — covered up through the early "Galaxy Mission" updates of the original arcade version of Dragon Ball Heroes. Over an entire half-year, the game swayed in and out of the Famitsu and Media Create top-selling games charts with reliable, if not consistent, sales figures. The game was not released outside of Japan.
UPDATE: A commercial for the game revealing its cover art was later uploaded online by the company.